May 11, 2004
Butterflies, Bombshells and Travelers Karma
We made our way north to Nong Khiaw, a fairly remote village nestled against the mountains of northern laos. After a rather cramped (but comparitively painless, as we would later learn) bus ride we did a little trek to a cool cave a few KMs from town.
On the way to the caves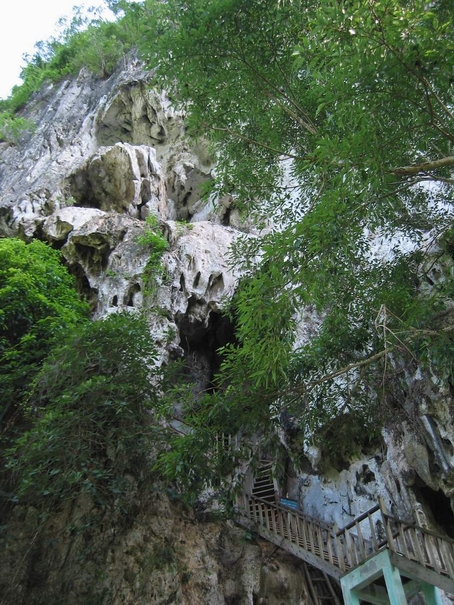 At Ze Caves
The beauty of this place was somewhat marred however by the scars of the Vietnam conflict and the "Secret War", as well as the most recent use of the cave...for locals to hide while US B-52's bombed the crap out of the surrounding area: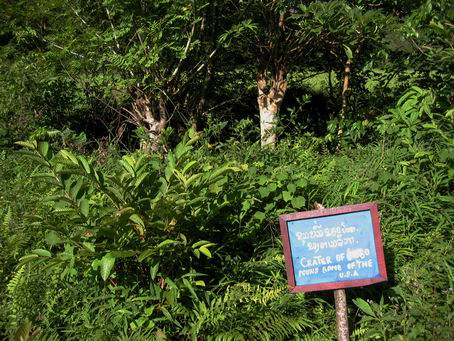 The sign reads "Crater of 260 'pouns' bomb of the U.S.A."
On our walk home, we were yet again reverberations from the War, still being felt today. We passed a crew of Laotians who were responsible for the discovery and dismantling of "UXOs" -- unexploded ordnance (essentially bombs). While the US was not alone in contributing to this ongoing problem (130 deaths/year on average), the fact that most of the 1.5 million tons of ordnance dropped on Laos was simply due to American bombers not finding targets in neighboring Vietnam (and being unable to land with bombs in tow) does not help matters.
Later that night J and i searched high & low for a resturant when we -- literally -- stumbled into Paul, a kiwi friend we'd met in Vientiane over a week ago. Paul welcomed us to his adopted Laos family, and a small group of "Falangs" joined 5 or so Loations who
owned a small guesthouse in town. Ironically the primary owner Buhnme worked as a UXO remover.
The evening turned into yet another authentic, wonderful Laos experiences as we passed the Lao Lao (rice whiskey that's reminiscent of aftershave ;-)) 'round the table until the wee hours. We gave Buhnme's two sons (8 and 10), two budding portrait artists, pen and paper which they were thrilled with, doodling and laughing for hours on end. Buhnme also treated us some surprisingly catchy Thai pop, which he put on repeat for us :-).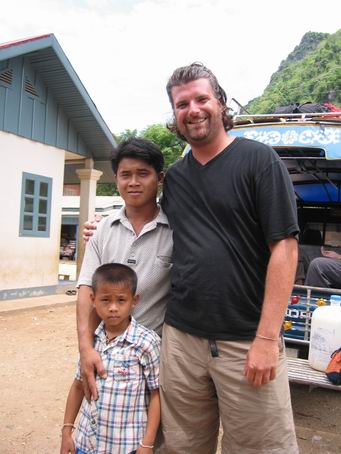 Buhmne and son Brupee, who we happened to run into two days later