April 30, 2004
Boats, Planes & Buses
Said goodbye to our newly formed Ko Lanta crew -- Mirissa, Nicole, Lisa, Kathleen and Brad (and of course Rakesh and Pete) -- last night (and am still paying for it today). It still amazes me how easy it is to meet likeminded peeps whilst backpacking in SE Asia. It's comortng to know we left Rak in such good hands:
Pls excuse the framing, I was a little incapacitated :-)
Braving our hangovers, we ferried, bused and flew our way back to Bangkok, but not without taking in a few sites, like the 2 cuties on Ko Phi Phi:
April 29, 2004
The Rain Commeth
The rainy season is soon upon us as evidenced by the torrential downpour we encountered this PM. We still made it out to a cool vista "the viewpoint" to watch the sunset and grab a bite.
Tomorrow we ferry to Phuket and then fly to Bangkok before heading to Laos.
April 28, 2004
$10.25 For Beachside Accommodations
Granted, the place is inauspicious, but it's clean and one can hear the ocean at night. Tough to beat that, so we made up the difference with what is quickly becoming my fave form of back therapy - Thai Massage. It's kind of a cross between deep tissue, chiropractics and yoga -- you're stretched, pulled, twisted and rubbed until the pain is beaten out of you. That's what i call fun
Thai woman diggin' for dinner on Lanta
We walked the beach by day and then headed over to Longbeach Resort, for the 50th b-day party of the owner, a Canadian mysteriously named
Madame Laura
. the festivities featured a talented reggae band, barracuda on the barby and banana daiquiris.
April 27, 2004
Lounging in Lanta

We ferried out of Phi Phi for Ko Lanta a less-developed island about 40KM away. We definitely liked some aspects of Phi Phi: some striking landscape, good food, decent access to good diving and some of the conveniences one would expect in a more resort-like environ. that being said, we found the locales to be of shorter fuse, generally less friendly, somewhat crowded with more touristas than travelers (there's definitely a difference) and a vibe that wasn't quite what i'd experienced in Ko Phagnan in '02.

Ko Lanta is just what the Dr. ordered. Janet and Mellie had been here in early '02 and while it's more developed now it still has that chill, not overly ostentatious atmosphere we've been missing.

We spent the day readin' on the beach and the night doing our best to improve foreigners' views of americans :-).

April 26, 2004
The Hunt Continues

Rakesh, Janet and our new Chicagoan bud Peter -- having heard even more stories about Whale Shark encounters -- decided to plop down more cash and try our luck.

We went with a new dive shop this time and, despite positive initial impressions, it proved to be a bummer. our dive master was one of those control freaks, shaking her little rattle every 5 minutes if we were even a couple of meters below OR ABOVE her. Ridiculous -- worst divemaster experience i've had in 50+.

We did manage to see a few more rays, smaller and while snorkeling, but i was glad Rak and J got to experience them, even from the surface.

At night we saw an amazing fire show at Hippies, a cool, chill beach bar (as the name might suggest). Rakesh has a cool video of it that i'll upload when i can.

April 25, 2004
Amazing Beaches...
Today we rented a longtail (essentially a water taxi) and went swimming at an amazing little bay with absolutely clear water surrounded by sheer limestone cliffs. It was only marred by the 50 Japanese tourists wearing bright orange life jackets :-)
Next we longtailed it to the place where they filmed "The Beach". Check out a little
video
as we cruised 'round the corner...
unfortunately Greg Sugar needed to head to another Island locale, rendering us Sugar-free for a while...
April 24, 2004
More Diving
We stayed near the Island today...while the dives were not quite on par with yesterday's we still swam with a turtle (I on the dive masters alternate reg, as it showed up at the end of the dive and i'm an air pig :-))
Also so more eels
and fishies
Rakesh also competed his certification dives today....congrats Rak! To celebrate we headed out to "Hippies", a chill beach bar up the road.
April 23, 2004
In Search of Whale Sharks
It's
whale shark
season in Thailand and Sugar and I, having missed them in Burma, decided it was worth $100 US to try again. Whale Sharks are the largest shark in the sea, with some reports indicating a length of up to 18 METERS (over 30 feet!). They are plankton feeders, completely harmless to humans. Their size and beauty make them the holy grail for many divers.
We hit Hin Daeng and Hin Muang, 80 KM south of Phi Phi (1.5 hours by speed boat). Daeng was not too exciting but we still saw a few eels, etc at depths of over 90 ft.
Hin Muang was one of the best dives I've done -- amazing colors (tons of purple coral), no fewer than 10 moray eels and, BEST OF ALL, a 4M (12 feet!) manta ray:
The ray was easliy the largest thing I've seen in the ocean. Even with its size, it swam with surprising grace, hovering in and out of divers for 5 minutes (but seemed so much longer). An amazing dive....needless to say i'm glad we rented a digital camera :-)
April 22, 2004
On to Ko Phi Phi
We had our fill of Rae Lei (a bit disappointing really...kind of biult up and w/out a great vibe).
After nearly missing our ferry (left 15 min early - who would have thought?!) we journed to the Island of Ko Phi Phi, one of the most famous beaches in TH. They filmed Dr. No and "The Beach" here....pretty dern stunning:
Phi Phi offers some of the best diving in all of Thailand and Sugar and I wasted no time taking advantage of it, doing a night dive that very night.
April 21, 2004
Creatures from the Thai Lagoon
Rakesh, Sugar and I decided to risk life & limb and climb a rather steep hill (RL is known for its Rock Climbing) and were rewarded with a cool view of the beach.
We then headed to the entrance of a lagoon which I opted out of (3 sheer cliff faces plunging 3-4M a piece will do that). Sugar and Rakesh adventured onward w/out me, while I joined the wife in her element (the beach of course!).
On our way out we stopped by a shrine to the goddess of the sea, populated with many a phallus to ensure that local fisherman's catches are plentiful. I coaxed J into posing... ;-)
April 19, 2004
One man enteres, 1 & a woman leave
Rakesh joins the crew fresh (or not so fresh) from the crazy city of Bangkok.
Sadly, Dave and Rachel join us for a farewell supper before they too left for work at the ass crack of dawn (this work BS is getting in the way!)
April 18, 2004
Rae Lei Exploration
RL, like many beaches in the area, features some dramatic limestone cliffs & formations:
We spent most of the day chilling...but lost Stephanie to the rigors of the work-a-day world :-(
Dave and Rachel treated us to the spoils of the Thai cooking class the took pre-Burma. YUMMMMMM.
April 17, 2004

Thailand, Take III
The six of us left our Island paradise to return to Thailand, this time planning on a visit longer than 12 hours :-)
We headed to Rai Lei beach, on the Krabi peninsula on the Western side of Thailand. Stayed at a cool timeshare kind of place that Mel, Rotem, Mina and Janet had patronized on their last trip.
April 16, 2004
More like exercise than diving
We dove Stewart Island in the morning and it was definitely the toughest dive I've been on. We did a head first descent against incredibly strong current -- i burned through 80 bars just to get down. Having lost Mr. Bill and Rachel to the difficulty, Sugar and I joined Cedric on 2 swim threws before I ran out of air (literally). Have to say we were less than impressed w/ Cedric and the dive operation in general (they did not have enough regulators on board so Cedric dove without an octopus, pressure or depth gauge.
At any rate, we survived and braved a second -- and thankfully more pleasant -- dive at "High Rock" where we saw a bunch of eels and pipe fish. After a bit of snorkeling at Myouk Nyo Island we headed back to the border to depart the following day.
April 15, 2004
Back in the SCUBA again
You would have thought a 102 degree fever would have kept me from diving at 9 AM the next day eh? Then you'd have underestimated nurse Janet's healing touch and my desire to see the elusive whale shark ;-). We dove "In Through The Out Door" one of the more famous dive sites in the archipelago and saw a variety of marine life including lion fish and scorpion fish.
The second site was a large pinnacle and - in spite of the obvious evidence of illegal fish bombing from the Burmese fisherman - we saw tons of great stuff.
April 14, 2004
102 Degrees
Something I ate at some point clearly did not agree w/ the gringo in me...i was laid up all day (and most of the night) with a 102 degree fever. From what I hear though, Janet, Dave, Greg, Rachel and Steph managed to struggle on w/ out me enjoying amazing snorkeling and beach time and enduring a murky check-out dive with divemaster Cedric.
April 13, 2004
Winner, Best Beach Ever
More kayaking, this time in-land at Salet Galet's magrove river, where Rachel braved her phobia of snakes and we hiked in to the jungle to scout wildlife and get our land legs back for a bit.
Click here for a video quickie of Janet padelling and jim filming.
Post adventure we anchored near "Island 60" (there are so many of them that only a handful have been named!) which had to be one of Janet and my all-time favorite beaches. Sand so fine it was like flour and not a soul as far as the eye could see. Yum
It was tough (really tough) to leave the beauty of "60" but this was eased by a wonderful island BBQ the crew prepared for us right on the beach, complete with sand tables and chairs.
April 12, 2004
800 (truly) virgin islands
We'd heard about this "
adventure cruise
" from Melanie and Scott who both raved about it. With the exception of a bit of diving issues, we weren't disappointed.
Sunset, Burma Style
Joining us on the Myanmar leg were Dave Bill and his girlfriend Rachel. After an all-night motor, we were ready for a little exploration. Burma's Mergui Archipelago has over eight hundred islands, scattered throughout an area of some ten thousand square miles. The area was opened toforeignerss - on a limited basis - for the first time in 40+ years in 1998. B/c of this, it's still in pristine condition, with very few human inhabitants.
Our first day was spent sea kayaking to and fro deserted white sand beaches:
Courtesy of Greg Sugar :-)
and visiting the Sea Gypsy (Moken) people, one of the few peoples in the area. LikeCambodiaa, one got the sense the Westerners were very out-of-the-norm and our brief visit was met with some curiosity and more than a few smiles:
April 11, 2004

On to Myanmar (Burma)

but first, stuff we found endearing/interesting about Cambodia:
Westerners seem to still be an anomaly. Many Cambodian's seemed genuinely interested in interacting with us. In fact, many found me particularly amusing and I had quite a few Cambodian tourists request a pic :-). Click here to see what i mean :-)
It still felt somewhat unspoiled. Angkor is hugely touristy, but PP has escaped rampant Westernization
Of course, the soaring architectural triumphs of the Angkor temples
That it was cheap :-)
the history -- even the disturbing portions of it

stuff we found quirky >> annoying
the Cambodian's Peoples Party. We got strong, mixed reactions when asking locals about this autocratic-posing-as-democratic government but we got the feeling that corruption and a touch of oppression were not uncommon
the victims of the tens-of-thousands of landmines set by the Kymer Rouge and during the Vietnam War.
it was a little 'rough around the edges' at times (which added to it's charm...and dirtiness
the food was kinda disappointing

We left Siam Reap, flew to Bangkok and then on to Ranong, where we met up with our Burmese live-aboard crew on Gaia. A few comments on Mynamar....the government is definitely oppressive - far more human rights violations than Cambodia in the last 10+ years. Corruption is rampant and the border crossing from Thailand was a bit interesting and slightly disconcerting.

After paying our US $100 visa fee, we set off on Gaia for our week-long adventure:
April 09, 2004
More templing
Our last full day in Cambodia featured more temple exploration, most notably the "Woman's Temple", carved in red sandstone, affording better preservation and a cool pink hue.
Also learned of some of the plundering that's plagued Angkor over the last few hundred years (mostly by Thais and Vietnamese) and some of the restoration work that's been more detrimental than helpful (an Indian team ruined an entire section of Angkor by using an acid to 'clean' it). Nevertheless, it was an amazing experience!
April 08, 2004
Tomb Raiding
Janet and I got up pre-dawn to see the sunrise and Angkor Wat (she's such a trooper :-)) -- a cool (in both senses) experience.
We risked destroying Janet's knees and climbed the incredibly steep temple steps to the center of the temple (representing Nirvana).
AW covers 81 hectacres and took over 30 years to build. The famous five towers represent the 5 peaks of Meru, the holiest mountain in India. AW has the largest and most intricate Bas Reliefs of any temple in Angkor, often depicting scenes from Hindu mythology. In addition to the Bas Reliefs, the temple is adorned with thousands of Apsara carvings -- topless women who dwell in heaven whose soul purpose is to have eternal sex with Kymer heroes.
I think the monkees should consider a name change :-)
Post pool dip Sugar and Steph rejoined us for Ta Prohm, where segments of Tomb Raider were filmed owning to the temple's overgrowth with vegetation. With trees seemingly sprouting out of walls, nature's triumph proved one of our faves:
On to Angkor
The quartet left the rather sobering scene of Phnom Penh and flew to the town of
Siam Reap
, just kilometers away from World famous
Angkor Wat
and surrounding temples. After settling in to what would prove to be barely adequate accommodations, we braved the blistering heat & humidity and hit
Angkor Thom
.
A word about Angkor...one of the 7 wonders of the ancient world, it has been characterized as the largest religious monument on earth. Angkor was the ancient capital of the Kymer empire ~ 12 century AD. The French explorer who "rediscovered" the lost city in 1860 described the temples as "far grander than anything of Greece or Rome." With its intricate stonework/Bas Reliefs, soaring towers and the sheer expanse of the temples, it's tough to argue w/ the Frenchie.
We spent the late morning climbing around Angkor Thom, the royal city just a few KM from Angkor Wat, built in the late 12th C by Jayarvman VII, the greatest of Cambodia's ancient kings. J's reign, lasting nearly 40 years, witnessed the construction of nearly 60 of the 140 temples near Angkor. AT is voluminous enough to house the entire city of ancient Rome and features the "Bayon" in the center of the city, a tower rising 45M.
After a few hours of clambering over carved stone, we retreated to the AC & pool, then returned to temple town for a sunset, Angkor Wat style. Given AW is the most famous of Angkor's temples and the fact that Janet was down for the count we cut the expedition short a bit, but not before a marvelous sunset:
April 07, 2004
The Killing Fields
Janet and I took taxi to another chilling memorial -- Choeung Ek -- AKA the "Killing Fields", where many of the victims from S-21 were murdered and tossed into huge mass graves. To date nearly 9,000 corpses have been exhumed from the site. To commemorate the tragedy, Cambodia built a huge glass tower, encasing the skulls of men, women and children executed by the Kymer Rouge: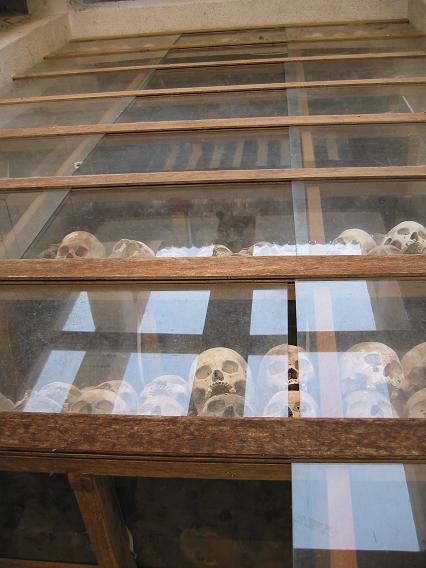 Distrubringly, bones of victims protrude from yet uncovered graves.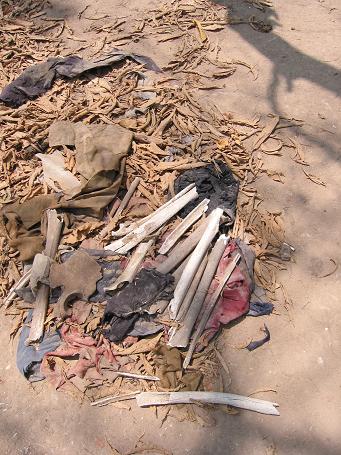 April 06, 2004

Cambodia & Phnom Penh
Cambodia is quite a bit different than Thailand - which was evident from the first day we arrived in the capitol, Phnom Penh. Poverty seems more prevalent, there's certainly less development, Westerners are far less common and the country as a whole still appears to be healing after many a political scar.
Phnom Penh is a microcosm of the rest of Cambodia, still showing signs of the iron-fisted regimes that ruled the country not so long ago. In the 60's, PP was on the verge of becomming a modernized, charming, bonafide capital city before Pol Pot and the Kymer Rouge (with the aide of the US Government -- gotta love our track record in supporting demonic despots!) set it back decades, evacuating 2MM people and turning the city into a prison camp.
The four of us made our way to the prison itself -- now a memorial to those that died there from 1975 to 1979 -- called Tuol Sleng, the "museum of genocide". needless to say, a heavy, heavy place. the prison was known simply as securtiy prison 21 or s-21 for short and was housed in a former grade school.
it was a powerful experience. interuments of torture, mug shots of the thousands that were interned (and soon murdered) and gruesome images of what took place in the cells 20+ years ago served as a chilling testament to man's inhumanity to man.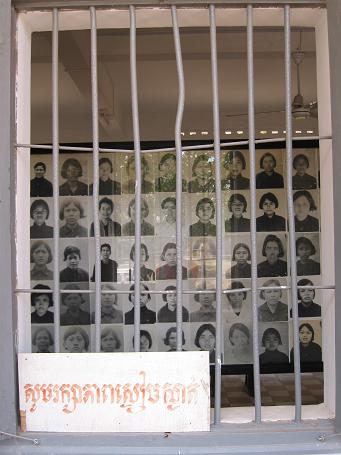 needing an uplifting change of scenary, we grabbed a tuk tuk and headed to Wat Phnom in the city centre. the highlight of the excursion had to be janet (a self-proclaimed "monkee") "attacked" (or at least grabbed) by the real deal. "monkaffinity"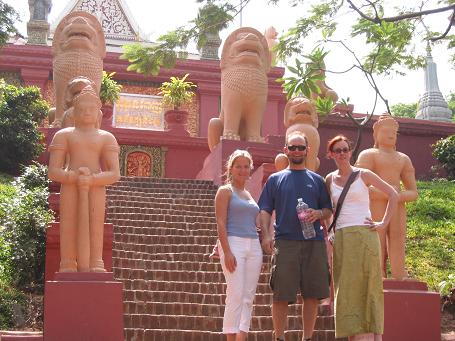 Next we headed to the Royal Palace and Silver Pagoda which featured an eclectic mix of architecture, from traditional Cambodian to 19th century French. The experience was hurt a bit by our overzealous (but well-intentioned) tour guide, who insisted on showing us every inch of Palace and Pagoda in the 95+ degree
heat ("Lady! Look over here!", "Lady! Stand here Lady!Lady, here!").
April 05, 2004
one night in bangkok

janet and I were joined by friend & former aol-er Greg Sugar and his friend (and now ours of course) Stephanie Rush for the first portion of our Asia excursion. after what must have been a record for the shortest stay in Thailand (6 hours, 5 of which were in a hotel bed). tomorrow we fly at the ass crack of dawn to Phnom Penh, the capitol of Cambodia.

April 03, 2004
2nd Leg 'O The Tour de J+J

the (rough) plan

o Cambodia ( ~ 5 days)
o Myanmar (1 week)
o Thailand (~ 1 month)
o Laos (~ 10 days)

we may do Bali, or my choose to hit another continent (Africa?) before the European leg commences, which (roughly) looks like:

o Greece (1 month, ~ late June > late July)
o Turkey (1 month, ~ August > September)
o Spain/Portugal/Morocco (6 weeks Sep > mid Oct)