October 31, 2004
Desert Moon
The desert of Morocco proved to be the highlight. If we could do it all over again, we would have skipped Fes and spent the extra time exploring the desert, for sure.
Our first day was spent traversing the High Atlas mountains, which includes the Tizin Tichka Pass. At 6660 feet it is the highest point in Morocco, as well as all of northern Africa. We also stopped at a few 'kasbahs' - fortified palaces and residences. The drive was long but utterly beautiful. The vistas and valleys along the way were truly breath-taking. Morocco scores high on the scenery scale!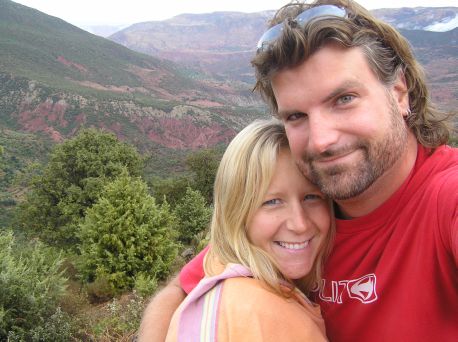 Stopping en route to take in the view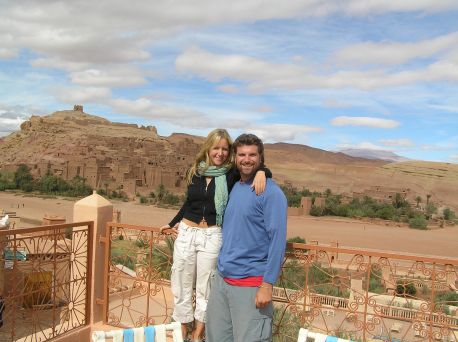 Rocking the kasbah
On Day 2 we drove to Zagora where our camel trek into the desert was to begin. I will admit I got a little nervous as the camels were prepared for us . They are T-A-L-L animals - although I figured I'd be falling into sand if I fell off, but it's still a long fall!
Jim - and the gear - was loaded onto Shariff, who was the bigger of the two camels. My camel was named Ma Moo or May Moon or something like that and proved to be a little frisky at the beginning. But s/he settled down quickly and off we went camel riding! It didn't take me too long to realize that camels aren't really capable of sudden movements so I figured the odds of being thrown off it were pretty slim.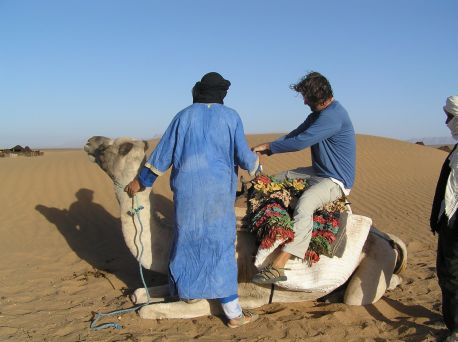 Jim mounting :)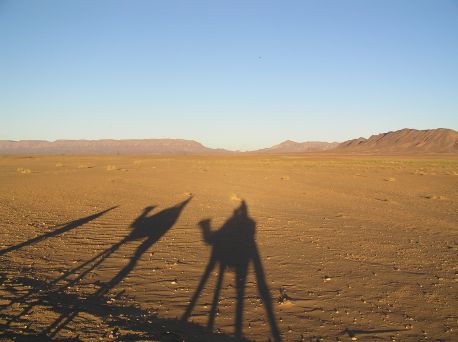 Riders of the desert :)
After a 2 hour journey we reached the berber tent where we would spend the night. It was actually a tent 'complex' with a huge area for dining and many tent 'cabins' set up along the perimeter. Unfortunately (or fortunately depending on how you look at it) there were no other desert safari-ers so we had the whole complex to ourselves.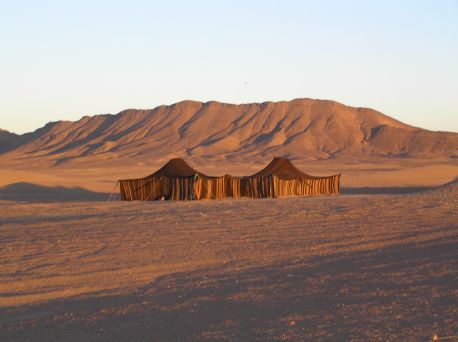 Berber tent complex from a distance
After an amazing sunset we were fed a delicious Moroccan meal after which we headed directly to bed :)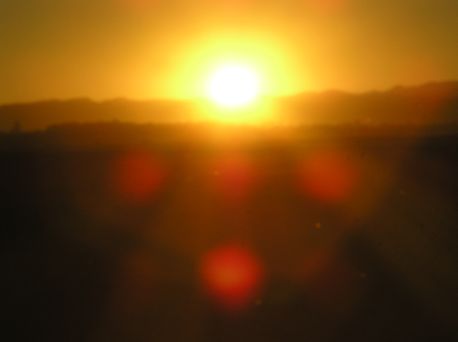 Desert sun setting
The next day was spent making our way back to Marrakech. We were invited to our desert guide's house for a Ramadan meal with his family: his wife and 2 boys (ages 12 and 6). It was a delicious meal including some of the tastiest dessert treats ever! Yum.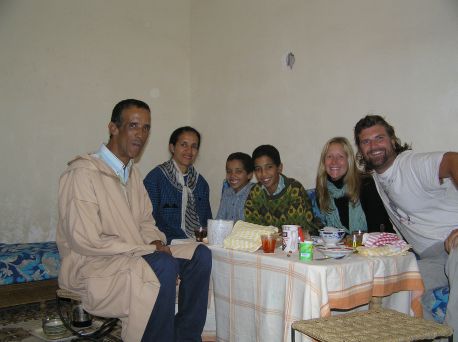 Chez Omar
At 9pm we started our 20-hour journey back to Spain - consisting of an overnight train to Tangier, a ferry to Algeciras and a bus to Seville.
October 29, 2004
The Sahara for Desert and a

Political Aside
Being that it's rainy and too cold for my wife we have decided to head for the assuredly warmer environs of the Sahara Desert for a three day drive Eastward that promises sun, sand and perchance a camel ride :-)
Warning: what follows is a political commentary...
One thing this trip of ours has underscored again and again is just how damaging the Bush regime has been to our standing in the international community. Everywhere from Laos to South Africa to Greece to Spain (and most places in between) we have seen a passionate and consistent hatred for the arrogance and audacity exemplified by Georgey, Dickey, Rummy, Johnny and the rest of our beloved "leaders". Another revelation we've had since we've been on the road is just how small this world really is...and the impact the world's largest economy (for now) has on the global community. We cannot afford to pretend we have all the answers or that our actions wont result in the next Osama being inspired to act against a perceived (or real) aggressor he sees in the U.S.
Our absentee ballots are in...here's to the hope that the 40 some-odd percent of Americans who are actually contemplating re-electing the cowboy and his henchman to another4 year term in office, let's all hope they don't let fear (look Ma' I done changed the Terrorist Threat Level to chartreuse! that'll put the fear of Cheney in 'em!), their pocketbooks (if you happen to be in the top 5% income bracket of course), some twisted sense of morality (i.e. gay marriages could be the ruin of society as we know it but thou shall kill if it suits your political/economic interests) or fox news (and the like) lead them to commit such a bogus offense to this country and the international community at large.
October 26, 2004
On The Merrakesh Express
Today we took a long and uneventful (save the breakfast at the station in which the restaraunteurs tried to rip us off on a 300 (US 35) meal, which I promtly shut down) train ride to Merrakesh, about 500 km to the south of Fez. While it has changed enourmously from the Hippie haven of the 60s/70s (that saw the likes of Cat Stephens, Jethro Tull and of course Crosby, Stills & Nash (who wrote a song about it) take in the scenes & then some), it still has a cool vibe. We arrived in time to watch the spectacle that is the night market, featuring the usual craft (and junk) vendors, what equates to an enormous outdoor eatery, street performers and even story tellers, the last managed to attract quite a crowd (though we could not testify to their skill as all tales were spun in Arabic).
The following day we spent the day checking out Mosques (from the outside of course):
and the smallish but tranquil Jardin Majorelle Gardens. Unfortunately the PCs in Morocco are a bit behind the times so no pics for a while. Tomorrow will likely feature more of the same, tho we are trying to plan a trip to the desert...
October 24, 2004
From the New to the Old
We took a morning stroll around Ville Nouvelle in search of breakfast. Onew thing we failed to realize pre-booking of our trip was that it landed right smack dab in the middle of Ramadan, the holiest of holy months in the Muslim faith. Things generally aren not open during the day and it is a bit quieter on the whole. Therefore we were relegated to the Golden Arches for breakfast (good thing Jim and I have decided to just 'let ourselves go' and deal with the consequences when we return stateside). But this was not just any Mickey D's - this one was a double decker with terraces on the upper and lower levels with amazing views to match. Inside, there were 'real' menus on each table and 2 flat screen TV's. And not only was this the most aesthetically pleasing McDonald's I've ever been to - they offered real coffee and expresso to boot!
They dont call us tourists for nuttin
After enjoying our Burger Royals avec frites, we packed up our bags and headed to Old Fes (Fes El-Bali). Surrounded by high walls, Old Fes is one of the largest medieval cities in the modern world. Its labyrinth of streets make Stone Town look simple to navigate.
Inside the walled city
We spent the day traversing the maze, taking in all the sights and smells. Every square inch is packed with vendors, selling everything from socks and kleenex to homemade candies (dee-licious) and spices. It is more than a big congested on the narrow streets and it was always interesting to make room for the occasional donkey passing by.
With the help of an unauthorized guide, Abu, we made our way to the Kairaouine Mosque. Dating back to 859 AD, it is one of the oldest mosques in Morocco. Unfortunately most (all) mosques are closed to non-Muslims so the most we got a peek in the door (which is probably all I would have been able to get anyway, having exposed knees and all).
Whitey not allowed
We went up to the terrace to view the mosque from above. Anti-climatic to say the least, but we did have to cut through a carpet shop on the way up. Needless to say, we stopped for a 'show and tell' at the carpet coop on our way down. We figured it was a safe call because Jim nor I really like the look of the Moroccan carpets, so we figured we couldn't get pressured into buying one. Well, of course there was the
one
carpet that we liked.....
Fruit of the Loom
Jim then continued the mission to get a Moroccan flag patch for his pack - asking our local guide from help finding a store that might sell one. Abu seemed to know immediately what Jim was looking for and where to find one. Imagine our surprise when he brought us to a spice shop and the woman asked what aphrodisiac we wanted! I guess "Moroccan flag" is similiar to "Spanish Fly."
October 23, 2004

Movin on to Morocco
Saturday was a day of travel (albeit smooth and uneventful travel). We left Granada in the morning, taking a bus to Algeciras. Where we then picked up a ferry that would take us to Tangier, a northern port in Morocco. Where we then picked up a train that took us into Fes, the proclaimed cultural and spiritual center of Morocco.
We had been warned of the touts that tend to swarm the tourists as soon as they disembark. Since Jim and I decided to give ourselves a break and cab it to the train station rather than have to deal with buses, we were ready to negotiate. We used our typical strategy - cut the price they offered in half, showed the book as proof for what the going rate is and disbelieve their lines about places being closed and trains running late, etc. So when the 'petit taxi' driver tried telling us it was Ramadan, we blew that one off as a line.
Well, turns out that one wasn't a line. It is indeed the middle of Ramadan. This really doesn't cause much inconveniece for tourists, as locals don't expect you to be following their rituals (no eating or drinking during daylight hours, being one of them). But there are many places that are closed during the day and things are definitely more 'sparse' than I imagine they are normally.
We arrived in Fes after 10pm and settled quickly into a hotel in Ville Nouvelle, the French district, where we were able to find a number of open restaurants for a light dinner. Whew!
October 22, 2004
Granada
Today we bussed it from Valencia to the mountain-town of Granada, famed for its impressive basicalla, melding of Christian and Muslim influences and, above all else, the Alhambra. Its a quaint city, smaller and a bit homier than Barcelona and Valencia with a middle-eastern feel to it:
Hilltop view of Granada
After a day of tooling around we hit Granadas most famous of landmarks, the Alhambra. The 10th Century fortress cum palace cum center for Islam before the Christians rooted the Moors in the 17th Century it is truly an impressive site:
The Alcazaba, the fortress of the Alhambra
Sitting high atop a hill overlooking Granada the Alhambra features some of the best examples of Islamic architecture and design in the world, amazingly landscaped gardens and the somewhat incrongrous palace of Charles V, who wished to assert himself after the last of Islam was driven out of Spain in the 1600s.
Reflecting in the Nazrid Palace
The out of place architecture courtesy of Charles V
October 20, 2004
Tough Act to Follow
Yesterday we trained it to Valencia, a cool town a bit smaller and a bit less entrancing -- what wouldn't be? -- than Barcelona. Still, we spent two languid days soaking up the environment, which included a few hours at one of those prototypical plaza cafes sipping sangria and watching little kids play with the rats with wings (errr i mean pigeons):
Girl having a ball
After a rather boring museum experience (one of those that promises great works by the masters but ends up featuring 200 different flavors of Madonna and child) we headed out to sample a bit of Valencia's nightlife, which of course started with Tapas (we're addicted at this point):
She's pouring Spain's equivalent of high octane cider
...and ended with some cool night-time scenery:
A fountain I found especially intriguing after three (or four?) of the aforementioned ciders
Tonight we take a night bus (recalling memories of Turkey) to Granada, a good 600 kms to the south west...
October 17, 2004
A move to Miro
If there is one thing Barcelona offers, it is definitely a great art scene. Today we moved away from Gaudi and on to Miro. Most well-known for his abstracts done in primary colors, a visit to the 'Fundacio Joan Miro' showed us that he also did work in tapestry, sculpture and ceramics.
Being relatively green about Miro and his works, the museum was a good learning experience. Miro came of age during turbulent times - the second world war, the Spanish civil war - and his paintings reflect that. As literature majors, we both appreciated his use of symbolism and icongraphy.
This is actually a giant weaving of a woman (not a dog)...over 20 feet high!
We then walked around the Montjuic, the area that houses most of Barcelona's museums and parks, the most notable of which is the National Museum of Catalan:
Unfortunately it was closed by the time we got here :-(
Of course stopping at the Estadi Olimpic, where Jim and I imagined our own Olympic victories!
Giving Jackie Joyner Kersey a run for her money
For dinner we headed to Itari, a sweet little tapas place where you eat the bar. A la 'conveyor belt sushi' you take what you want and pay at the end with the bartender counting the number of toothpicks on your plate. We totalled 16 :)
Appetite for Destruction
October 16, 2004
More Gaudi where that came from
The Sagrada Familia was so inspiring, we spent the next day touring the city of more of Gaudi's innovative works. Our first stop was Park Guell. The fascinating park sits atop a hill on the outskirts of Barcelona. Construction began in the early 1900's with the intention of creating a sort of micro-city - containing houses and stores, as well as walking trails, gardens and recreational areas:
Park Entrance(d)
The project was a bit of a failure on the earlier aspects, as only 2 of the 62 parcels were ever sold. And one of those was the piece bought by Gaudi and in which he built a home and lived for 20 years, until he moved into the Sagrada Familia during its construction.
Park Guell is a beautifully landscaped park, complete with the whimsical architectural detail Gaudi is known for:
Tourist Trap
The three major pieces worth noting are the 'Room of Columns' with its 'false vault keystones' and beautiful mosiac collage "saucers" adorning the ceiling -
Wavey Gravey
...the meandering park bench that runs the entire perimeter of its rooftop -
Janet, benched
...and the dragon/lizard adorning the psychedelically landscaped entrance:
In typical Gaudi fashion the bench is beautifully "waved" around the rooftop. I like to say Gaudi couldn't draw a straight line (although Jim doesn't like it when I do). He does such an amazing job at making the eye move - his lines undulate, swerve, curve, dip, slip, plunge, bend, extend. Thus creating surreal form into structures we are used to seeing corners and lines.
After leaving Park Guell, we headed across town to a few of Gaudi's residential projects: Casa Batllo and Casa Mila.
Gaudi worked on Casa Batllo at the same time he was building Park Guell. It was a renovation project in which Gaudi completely transformed both the front and rear facade:
Casa Battlo
There are a number of interpretations: that it is a poetic vision of the sea --
Looks like Jaws?
-- a depection of scenes from carnival or, the most popular one, that it is a representation of St. George (patron saint of Catalonia) defeating 'evil' as represented by a dragon (a common Gaudi symbol).
The Cross (George) and the Dragon (Rooftop)
Gaudi also designed most of the interior of the building, including furnishings and lighting. Unfortunately, the first two floors - which are usually opened to the public - were closed for a private function. The rest of the building is still used a private residence.
Just down the street from Casa Batllo is Casa Mila. Nicknamed 'the Pedrera' meaning stone quarry, Casa Mila was also a private residence. Constructed from scratch in 1905, the building was intended to house the owner's family on the ground floor and rent out apartment units in the upper floor.
Would that all office buildings were this cool!
Although it looks like one big building, Gaudi actually built two - which adjoin to form the central patio in the interior. Again, we see Gaudi's use of sweeping lines in both the front facade, as well as in the central patio courtyard. Gaudi used many innovative techniques during the construction of Casa Mila, including the use of pillars to provide support for the building. There are no weight-bearing walls, thus allowing autonomous floor plans for the apartments on the upper floors.
Trippy interior
The building today is used as headquarters for 'Fundacio de la Caixa de Catalunya,' which restored the building in 1986. It also houses a Gaudi museum. Visitors are also able to walk through a 4th floor apartment furnished with interior pieces from the early 19th century.
But the highlight of the tour is definitely a walk around the rooftop. With its display of sinuous shapes, it gives the appearance of a sculpture garden.:
Jim liked the vent covers because they reminded him of Storm Troopers
To the contrary, the 'sculptures' actually have a structural purpose: they are all either chimneys, venilation shafts or service staircases. Once again, Gaudi proves the attention is in the details :)
Janet and Jim in Wonderland
October 15, 2004
Oh My Gaudi
Today's highlight (and one of the highlights of the entire trip, fo' sure), was our excursion to La Sargada Familia, The Church of the Holy Family. La Sargada was archetypical architect Antoni Gaudi's quintessential work. Gaudi spent nearly 40 years of his life in pursuit of realizing his dream to build Barcelona's greatest cathedral, dedicated to the task until his untimely death (via a tram) in 1926.
Words cannot do Sargada justice...even pictures fall short. It is undoubtedly the single most impressive man-made creation we've seen to date...and we've seen a few:
Gaudi's Masterpiece
I would go as far to say that (for yours truly), if you combined the beauty and architectural feats that went into building every Duomo in Italy, every Cathedral in England, every basilica in France, all of them COMBINED would not surpass the jaw-dropping site of La Sargada.
Gaudi not Gaudy
How can this puppy best the like of Saint Paul's, The Duomo in Florence, Notre Dame, St. Peter's, etc.? Because Gaudi's work is more art than architecture. The aforementioned buildings certainly vary stylistically, but they are all variations on a pretty standard theme. Clean, straight lines, vaulted ceilings, domes, tons of marble, gilded altars, stain glass, etc. The only thing that truly changes from cathedral to basilica is scale.
La Sargada is a complete departure from the rather impersonal, impress-you-with-sheer-size and glitziness of your typical house of worship. Gaudi drew from the natural world for his inspiration in designing La Sargada resulting in a style that is surprisingly familiar in spite of their unconventional aesthetic.
Gaudi's reliance on nature goes far beyond a visual celebration of nature though...he recognized that nature's example provides a perfect blueprint: from the trunk of the redwood in the rear of the church:
California Columns
....to the perfect spiral of a shell
Bird's eye view of the staircase
...to the branch-like design of the columns within the temple itself:
Branching out
Even the sculptures which depict various biblical scenes are attention grabbing. We're not talking Madonna and child done the same way 50x over...we're talking unique interpretations of what were for the architect/artist extremely significant events:
Veronica displaying the image of Christ captured on her cloth, Crucification above
Gaudi knew that while La Sargada Familia was his life's work, given the scope of the project there was no way it would be finished during his lifetime. It's probably safe to assume he would be a bit surprised how far the Spaniards have to go though, given it's been nearly 125 years since he stopped working on it. The plans call for 12 massive towers --- all 100M high --- representing the 12 apostles, plus 4 for the evangelists, and one a piece for Mary and Christ. However only 8 are complete and the architects are unsure how they are going to erect Christ's tower...which will be over 500 feet high. Given these challeges, the current team predicts the project will be completed in 25 years.
However, IMHO, if construction stopped today Sargada would still be reason enough to make a trip to Barcelona.
After closing our jaws J and I headed to the Picasso museum, another artist Barcelona can lay claim to. The museum houses over 3,000 of Picasso's works, most of which were donated by the artist himself. The earliest works were painted when he was a wee 11 years old...and you can already tell the boy gots skills :-).
October 14, 2004
Basking in Barcelona
We had an uneventful flight to Barcelona, leaving the freezing, freezing Berlin behind us (mercifully). Barcelona weather was a huge improvement - sunny and pleasant (thankfully).
At the weigh-in at the airport, we learned that our packs have reached an all-time high - tipping the scales at 18.7 and 18.9 KG a piece. That´s about 42 pounds! It is definitely time to lose the baggage if you know what I mean.
Unfortunately, housing in Barcelona proved to be a bit more challenging than we are used to. Afoot with our ridiculously overweighted packs, it took 3 hostel visits before we found one with availability and a decent price (this is when a phone would have come in handy). And more unfortunately, most hostels are located on the 3rd or 4th floor of buildings, so we were lugging our bags up multiple flights of stairs. Get the picture?
As soon as we got settled, we headed out for some celebratory Sangria. And as a birthday treat, Jim took me shopping for the day. This is a big deal, as he has proved time and time again on this trip that he is NO girl. He is no fun to shop with - he doesn´t shift through the racks of clothes helping you find the perfect "something" or test out every hand lotion available for the subtle differences in texture and smell, nor does he follow you to the dressing room making himself available for an immediate opinion or to see if you need a different size in anything.
As the fates would have it, he had more shopping karma than I. But I did manage to find a skirt so I could wear my super fabulous boots from Turkey out to dinner. I can´t believe we didn´t get a picture of that!
We had dinner (yet another splurge) at Set Portes, a Barcelona institution that opened in 1836 and specializes in paella. It lived up to the hype - undoubtedly the best paella we have ever had.
Family Van Sprocket at dinner
October 13, 2004

Spain
Today we said farewell to Hellas and left for one night in Berlin(kok) (Easy Jet -- one of the discount carriers in Europa -- has a hub in Deutschland). We were a bit tempted to take advantage of the stopover but given we'd been here just last summer we decided to lay low and fly out to Spain the next morning.
The rough plan for Spain is to start in Barcelona, then make our way westward along the Med Coast, probably hitting Valencia, Granada and Seville before detouring to either Morocco or Portugal (or both), returning to Madrid before heading back to the States. But we'll see where the winds take us...
Freaks say good-bye to the Greeks
It's hard to say goodbye to the lovely Greek islands, but Spain (and its sangria) is calling.
And here's the always requested good-bye list of the loved and not-so loved:
Stuff we found endearing about Greece:
The Beaches of Mykonos - Wonderful sand, incredible landscape, clear and clean water. And of course, an incredibly liberal beach culture.
The charm of Santorini - The picturesque and quintessential Greece postcard scenery of Fira town and Oai. The white washed buildings, domed churches, the sky, the sea, the narrow, twisted cobblestone streets. Beautiful.
The dramatic landscape of Crete - Quite unlike the other islands we visited, Crete is lush and hilly. Beautiful drives across the island with its rolling hills and peaked mountains covered in pine. Not to mention the incredibly beautiful Samaria Gorge.
Greek wine! - Tasty and cheap :)
Stuff falling somewhere on the amusing/annoying/disturbing scale:
Grouchy Greeks - We don't mean to call all Greeks grouchy, but we met more than a handful of unfriendly ones - especially the bus driver who tried to physically remove me from his bus! Maybe they are sick of tourists after hosting the Olympics and the Para-Olympics? We can cut them some slack.
Euro Sticker Shock! - A $8 cup of coffee? After spending so much time in Asia and Africa, Greece and the euro proved to hit even harder than expected. We are still adjusting.
The ubiquitous Greek mullet - Now it's hard for a girl with recently pink hair to throw stones, but the mullet just doesn't look good, gentlemen. But the Greeks seem to love it. Got me.
The lack of 'Road Rules' - or rather lack of drivers following the road rules. It certainly was no Cairo, but the Greeks are up there.
We head to Barcelona tomorrow, via Berlin. The plan is to spend a few weeks in Spain - moving west from Barcelona to Madrid and Seville on our way to Portugal. If we are lucky, we may hit Morocco for a bit too!
October 12, 2004
Acropolis Now
After an unfortunately sleepless night ferry ride from Crete to Athens (thanks in part to the snnnnnnooooooring grandmother and nearby fellow perpetually plagued by a hacking cough (and throat clearing to boot)). A bit worse for wear (especially me, after my hike the previous day, see below), we metroed to the city centre to hit the sites of Athens....first and foremost the city's most famous hill. The Acropolis is contains Athens' most famous monument: the Parthenon. The colossal temple was constructed in 438 BC and is dedicated to Athena.
Aphrodite and a pregnant looking Zeus
The Parthenon, Temple of Nike, Propylai and other structures whose names I of course cannot recall utilized over 22,000 tons of marble:
Contributing to the 22K
Unfortunately for these two tourists, the VAST majority of the structures of the Acropolis are being restored...resulting in a number of pretty significant distractions to the ancient site (cranes and marble don't mix):
Restoring away
We were even treated to what I can only assume was some sort of ceremonial guard (either that, or a squadron of pom pom girls gone horribly awry):
Boys gone wild
Post ruining we hit the National archeological Museum which was pretty impressive, featuring statues from 800 BC > Roman times:
Some old dude and some dude feeling old
God Numero Uno
The museum also featured pre-historic stuff. And when the Greeks say prehistoric they MEAN IT. We're talking pottery and the like that's over 8,000 YEARS OLD. Whoa. Not as cool as statues but you gotta go see a bowl that old don't ya?
Janet even pitted her impressive strength against the likes of Zeus...I think she fairs pretty well:
She may be little, but she packs a powerful punch
October 11, 2004
Gorging in Samaria
Samaria Gorge is billed as one of Europe's most spectacular Gorges and it lived up to its billing (in this humble hiker's opinion). Unfortunately for Janet this Gorge hike was 90% downhill which might sound less vigorous than the other way around, but for someone with catcher's knees, it's infinitely worse. Therefore the wife had to sit this one out, leaving the adventuring to Stacey and yours truly:
Pre-Gorging
After a STEEP and tree-lined descent we were surrounded by the towering (and often surprisingly narrow) walls of the gorge
Random hiker expose
The hike wasn't a stroll by any stretch: about 13 km long and 5 hours...I think just about everyone (including the 50+ club) from our morning bus passed us along the way. I prefer to attribute this to Stacey and my supreme appreciation for nature's beauty :-):
Joshua Tree-esque shot
Unfortunately, my 32 year-old frame was not quite up to the challenge of the aforementioned descent...I have a new appreciation for the Anterior Cruciate Ligament and how dependent one is upon it properly functioning :-(. I of course preserved (much to Stacey's relief as the prospect of carrying me piggyback strangely did not appeal) but am still awfully sore. (sigh).
Maybe I took a little of Janet's bad knee karma on?
October 10, 2004
Atlantis Found?
Today Janet, Stacey and I explored the ruins of Knossos, the focal point for the ancient Minoan civilization that pre-dated classic Greek civ by a few thousand years. The guide whose services we used spoke of the culture and social structure of the Minoans with gusto and pride that exceeded your typical tour guide (and we've experienced a lot of 'em at this point!)....and with good reason. Though the site itself was not as impressive as Giza or most of the temples we'd seen in Egypt (or Angkor Wat in Cambodia) the background on the Minoans made the experience pretty darn impressive.
Minoans -- whose civilization dated from 6,000 BC (!) to ~ 1500 BC -- were a matriarchal society, and while my first inclination is to crack the standard joke about women in charge, it sure sounded Utopian to these ears. Their religion was monotheistic, worshipping Gaea (mother earth), therefore women were held in high regard as the givers of life. However, men were not as they would have in a civilization like the Amazons...they were treated as equals, playing to their strengths (literally) in the field and in defense of the palace at Knossos. Minoans had an incredibly advanced justice system, much of which the Greeks borrowed and even the War Crimes court at the Hauge actually takes the architecture found at Knossos:
The original courtroom...the plaintiff faced the judges with light shining into his face so the Queen could discern whether he/she was telling the truth from his/her facial expressions
As Crete has always been susceptible to earthquakes (the tectonic plates of Asia, Europe and Africa meet beneath it) the Minoans also developed an incredibly advanced quake-proofing within their architecture...rather than layer upon layer of stone they buffered their 3-6 storied palace (which btw was 23,000 sq meters...HUGE) with three layers of would to absorb the weight of the stone as it resettled:
Minoan civilization may also be credited with indoor plumbing on all 6 stories, a surprisingly complex air conditioning mechanism, having discovered the links between color and mood and even bested the Greeks (and any ancient civilization for that matter) by developing a method of flight...think Icarus (paragliding). There were unparalleled at the arts, developing a technique for carving pottery out of stone so hard today's archaeologists are still unsure how they accomplished the feat.
But perhaps most impressive to yours truly is that this society existed without war: perhaps not surprising when taking the testosterone out of the ruling class. We could stand to learn a few things, no?
Unfortunately for the Minoans, the eruption of Santorini in 1500 BC put an end to their society and many of the advances it made...the blast's power equated to 1,000 atomic bombs and sent a 700 ft tsunami crashing over Crete (100 km away).
The Palace of Knossos was only discovered 100 years ago, so it's still relatively new when compared to something like Giza, which has been a tourist destination for well over 2,500 years. Whether or not this civilization was in fact what Plato referred to as Atlantis is still being debated, but in the end it doesn't matter...hopefully we'll take some of the Minoan lessons to heart...
Stacey and Janet clowning on the steps of a 4,000 year old theatre
Post dinner we braved the Cretan roads in our four (possibly two) cylinder Suzuki and headed for the quaint town Rethymno:
At ye olde fort
October 09, 2004
Multiple Choice Test
Question #1: Completely out of character, Jim wants to spend the day at the beach. What is the reason for this change of heart?
a) After 7+ months on the road, he has been successfully brainwashed by his beach-bumming wife.
b) He has consumed excessive quantities of Ouzo and is not thinking clearly.
c) Incessant road travel has resulted in schizophrenia - this is not Jim talking but his alternate personality, Demetrius (that's Jim in Greek).
d) He is grabbing at one of his last chances to enjoy the liberal beach-faring the Greek islands offers :)
Answer: d
Hi ho! Hi ho - it's off to the beach we go. Hania - as wonderful and quaint as it is - does not offer much as far as beaches are concerned so Jim and I headed due east to the sweet beach of Starvos.
The beach actually hugs a lagoon as the sea waters are met by a high wall of rugged rocks. Both provided wonderful picture ops.
Sailin, takes me away...
We spent the entire day relaxing on the sandy beach - until the peace was interrupted by a couple of boys from the great Midwest of the US of A. "Steve" was unable to get music playing from the laptop he brought to the beach so instead belted out some lovely countrywestern tunes for the ENTIRE beach to enjoy. Here's a sample of the lyrics:
And I dream in Red White and

Bllluuuuu

uuuuee

eeee

eeee
Made us so proud :)
October 07, 2004
End of the Endless Summer? (sigh)

With the exception of two brief stints (one in "spring time" Chicago and the other in South Africa) we've sucessfully managed to chase the sun. It seems though that Helios is finally outpacing us as Santorini's weather has taken a bit of a chilly turn. What better way to cope than hit Santorinin's wineries? They produce some killer white wines on the Island after all...

We also ran into Stacey, fellow cruiser on our Med boat trip...hopefully she will bring some L.A.-like weather our way.

We were supposed to leave for the island of Crete today but the winds rendered sea faring dangerous...of course there are worse places to be stuck :-).


October 05, 2004
Celebrity Haircuts


Jim and I decided to take full advantage of our new Aussie friend Shane's expertise and started the morning off with some haircuts! Shane has been 'Hairdresser of the Year' for 4 years running Australia. How could we pass up this opportunity? Plus, Jim has been threatening to cut his hair short in Greece so I was more than a bit desparate.
Not a great shot of the cuts, but a good shot of the views from Oai.
After the cuts, we jumped on a bus and headed to the northern part of Santorini to walk around the sweet little village of Oai. We hung out there strolling the sweet cobblestone and taking advantage of the numerous photo ops:
One of the many picturesque views that Oia offers
We then bussed back to Fira town to have a final sundowner with Shane before he headed back home to Sydney via London.
Shane, sans shears

Sundowner view of Fira town
October 04, 2004
Santorini
Ah Santorini...its background of whitewashed, rounded churches and buildings juxtaposed against an azure sky must surely be the image most commonly associated with Greece. There could be worse associations for sure... :-)
After ferrying in we spent the morning shutterbugging...the picturesque skyline defies cliches:
There'll be more of these fo' sure
Next J and I bussed to the southern coast for a visit to the Red Beach (you might think we would tire of beaches...but then you don't know Janet-- and I've admittedly been infected by sand fever as well). While the beach itself wasn't all that spectacular, the scenery around it (it really IS red) was pretty darn cool:
Janet, seeing red
After getting a bit gritty we left our rosy environs and headed back to Thira, Santorini's largest city and where we plan on calling home for the next few days. We made it back in time to enjoy one of the Island's world-famous sunsets...it lived up to its billing:
The Ouzo made it all the more purdy :-)
I'm becomming a sucker for sunsets
The view was all the more enjoyable thanks in part to Janet's brand new mirrored aviator sunglasses. The frugal husband frowed at the Euro pricetag but was instantly mollified when he discovered what fun he could have taking pictures with them in focus:

Bringing out the kid in me
October 02, 2004
This One Would Make Our Top 10
All-time beaches that is...Today we rented a scooter and motored to off-the-beaten-path Elia which featured stunning views, prototypical Med Blue waters and -- for the first time in a while -- actual sand (instead of the pebbles >> small boulders we had encountered in Turkey and other Greek beaches thus far):
The pic doesn't do it justice!
I was so inspired I worked up the gumption to undertake what surely must have been a half-iron man swim to a sun deck platform thingee out in the middle of the Med. The wife captured my triumphant (really just sucking air) pose:
Rusty iron man
Tomorrow we leave the surprisingly chill (due to the off-season nature of things at this point) for idyllic Santorini.
October 01, 2004
Romping in the Ruins of Delos
After Egypt and Turkey you'd think we were sick of ruins...but no! (at least not the male half of this couple). Unfortunately Delos -- while expansive -- was more ruinous than Ephesus, the pyramids etc, requiring obeservers to imagine how magestic the site must have been. That didn't stop us from clowning 'round of course:
Busts of Cleopatra and some greek dude, Janet and Jimos Dsylexos (note he's immitating w/ the wrong arm)
Jim gone bust
Post ruining we lunched at Mikonos town...quintessential Greek with whitewashed buildings against azure skies. Janet was also joined by "Pedro", who I believe was attracted to her pink tube top:
You can't really tell due to the lighting but Pedro the Pelican was Pink as Janet