March 17, 2004
End of j+j's South American adventure
Thus ends the South American leg of our World Tour. All-in-all Brasil was an amazing experience. We'd highly recommend it. Below is a map for your reference. We'd also be glad to share more detailed recs :-)
by the way, we thought we'd finish with a couple of lists - one describing things we enjoyed, one on stuff that struck the americanos somewhere on the amusing to annoying scale...
stuff we found endearing:
o that Brasil is truly a melting pot (as opposed to a bunch of separate side dishes the US generally is)
o surprisingly, the food (we ate our way through that country and it's a BIG country)
o beaches, beaches and more beaches
o how outgoing Brasilians are...friendly, curious and nearly all endowed w/ a gift of the gab
o quirky pronunciations (like adding a "gee" sound to words ending in "D" like "oh my godgee")
o Guarana, a drink made from an amazement fruit which had restorative properties which were absolutely needed after (and during) Carnaval
o the very positive body image Brasilian women (of all shapes & sizes) had
o the brasilian bikini
o Brasilians' love of song, and propensity to break into song
o fresh, FRESH juice
o the lack of annoying american tourists
o samba!
o Sao Paulo's culinary cornucopia
o Brasilian's fun-loving nature
stuff we found quirky > annoying
o the mysterious gringo tax that was levied on us when we were w/out natives
o that Brasilians typically hate carrying anything with them on planes. we saw no fewer than 3 umbrellas checked on our 5 flights in-country :-)
o hotel rating systems (subtract at least a star for the american conversion)
o the broken record of carnaval (same 10 axe songs played ad nasuem in Salvador)
o their version of mustard (blech)
o bad covers of bad american pop songs
o "the rules don't apply" mentality...most Brasilians have little regard for traffic "guidelines" (i.e. stop lights). in fact, the only way to slow drivers down is to install speed bumps
o Brasilians thought it unfair when cameras were installed on highways to identfiy speeders so now all cameras have signs alerting motorists of their presence well in advance
March 16, 2004
The sites of rio (continued):
To our great sadness, we lost DavidG to that great evil known as "work"- he headed back to Sao Paulo leaving the non-Portugese speakers to fend for themselves :-).
We hit the two "must see" attractions (according to most folk), "Christ the Redeemer"- a 160+ foot art deco rendition of Christ atop the dramatic Corcovado mountaintop: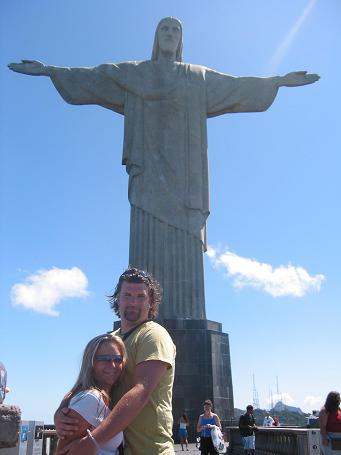 Then we headed to Sugarloaf, two successive rocks with a tram running between them affording a pretty spectacular view of the city. Of course with a view like this, it was tough to focus on the landscape ;-)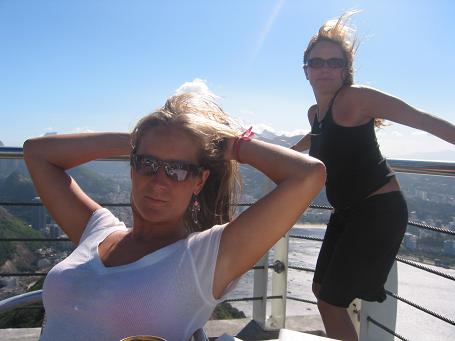 March 15, 2004
On to Rio!
We left the tranquility of Paraty for the glamour and glitz of Rio de Janeiro. We'd been warned by numerous folk to be wary of the dangers of this beautiful city but we never once felt threatened (dumb luck?). It's truly a site to behold, with its white sand beaches nestled up against dramatic rock formations and mountains.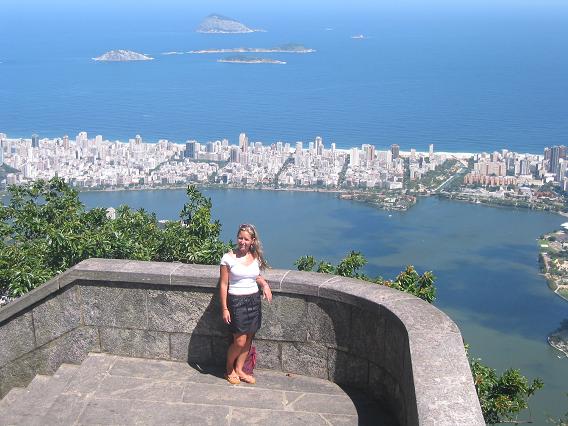 We stayed on Impanema which was a fabulous beach...
More islanding
The crew sans Jim (damn flu) joined el captian for more island adventures, this time capturing the ever-so-dangerous sand dollar among others:
March 14, 2004
Exploring Paraty
The town itself is very quaint - cobblestone streets and lots of art, all nestled up against the sea. It also featured more than 100 tiny islands which can be easily explored by boat. The four of us made the mistake of signing up for such an excursion boat-unseen and discovered that we were in for a somewhat crowded tourista experience which we opted out of. The girls, suspecting this might be the case, had already scoped out an alternate vessel, using the hottness of the captain as the sole criteria
Island hopping proved to be a tough job, but thankfully we were up for it ;-)
After snorkeling and swimming we ate at a cool island restuarant in which the purveyors pick up their patrons in a little row boat. yummmmm.
March 13, 2004
Road Trippin to Paraty

The foursome packed up David's truck and headed to Paraty, Brasil's first sea port located 1/2 b/t Rio and Sao Paulo. The trip proved to be a bit of adventure with a stretch of 9 KM of unpaved road which was barely worthy of such a title and a steven king like moment of asking directions in the foggy desolate country-side (at least to the girls :-)). We crashed after a quick dinner which was accompanied by no fewer than 30 signing frenchmen/women, belting out songs of national pride at the top of their beer-soaked lungs.

March 12, 2004
Foz, Brasilian style
Finished up our time in Foz by checking them out from the Brasilian side which, while even more commercialized, offered a better vantage point and surprisingly more wildlife:
The touristas also attracted "cuatis" - members of the racoon family who are pretty cute: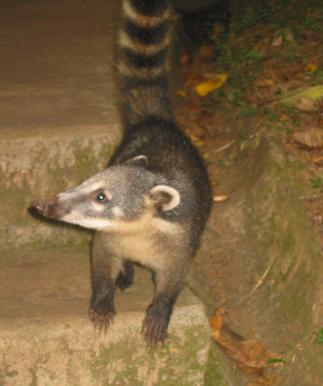 We headed back for a DavidG, Melanie reunion in Sao Paulo that evening (btw, flying into SP at night is a trip...the avenues and bldgs are lit up like a giant neon circuit board).
March 11, 2004
Foz de Iguazo
Janet and I parted ways with our fave traveling companion and flew down to Foz, the worlds largest (by volume or some such measure) set of falls in the world - larger than Victoria or Niagra.
We hit the Argentinian side first, which allows the tourista to get very close to 80% of the 200-plus waterfalls. We climbed to "devil's throat" first, easily the most dramatic with 13,000 cubic meters of water plunging 200+ meters:
The upper and lower falls were also pretty impressive - and still photos really don't do the awesome power of these puppies justice (the boatride that took us right to the base of them did a decent job though):
March 10, 2004
Living on the edge

My last "öfficial" day as an employee of AOL was spent on a harrowing dune buggey ride over some crazy sand dunes north of natal with Mel and Janet. We stopped at a few pre-ordained tourista traps, one of which Mel and Janet zip lined 100M to a lake below, after which the three of us lunched on some lobster kabobs looking out over the dunes. Couldn't imagine a more fitting way to spend one's last day ;-)



March 09, 2004
Snorkeling in fast-forward

Our last day in N. I went "dive boarding" which is essentially snorkeling on speed :-). About five peeps are slowly towed behind a boat, connected to a clear plexiglass board that allows you to dive up to 30 ft. The water happened to be exceptionally clear, making for a very cool experience.

That afternoon we headed back to Natal where we hooked up with Marcelo's buds - very cool group of surfers that were stoked (note surfer lingo) to be speaking English to the gringhos.

March 08, 2004
Beach Hoppin'

The crew split up today, with Jim diving and Marcelo taking the girls from beach to beach. Our dive boat "played with"about 30 bottleneck dolphins on the way to our first dive site - pretty cool. The trio definitely dug their beach excursions...

March 07, 2004
Lion's Beach
Janet and I rolled out at the ass-crack of dawn for some much anticipated diving. Unfortunately the visibility was so-so, but we we still had a great time. Frenando is famous as a turtle sanctuary and has been known to attract a few species of bottleneck dolphins, so the marine life is generally pretty plentiful.
After the dives we met up w/ M & M, saw some of said turtles while snorkeling at "south beach" and went on to one of the prettiest beaches we'd ever seen.
Lion's beach
is where many a turtle lay their eggs and, for whatever reason, we were 4 of 6 people on the mile plus strand of beach.
March 04, 2004
On to the "Hawaii" of Brasil
After experiencing the reliability of Pipa's "Mass" transit system, Mel, J + J headed back to the airport, meeting up with a bright-eyed, could barely contain himself Marcelo en route to Fernando de Noronha, an Island sanctuary many Brasilians consider to be their version of Hawaii (I think that sells it short!).
Noronha is a National Reserve, only admitting a limited number of tourists on at any one time and requring visitors to pay a daily tax that rises over the length of one's stay. The result is an Island which is still in pristine condition, with amazing beaches that are often completely deserted. Paradise...
Marcelo, who after some aide and very little coehersion, was bursting with excitement as we flew over the crystle blue waters surrounding N. After settling in and renting a dune buggy (pronounced booogey by the locals) we headed to Carreiro de Padre, the beach of the two brothers:
The waves were amazing -- 6 to 8 feet -- and we were mesmerized by them and the surfers who attempted (and often failed) to conquer them. In fact, Marcelo cracked his board on the first run - a testament to their power. However, in true Marcelo fashion, he shrugged it off and suggested we head to the harbor to catch the sunset.
Beers in hand we climbed the rocks and witnessed one we won't soon forget...
March 02, 2004
One could get used to this...
More chill time in Pipa, complete w/ Caiperinha's, good cheap eats and sun, sun sun. As you can see below, Janet and her new friend are having a tough time adjusting to the lifestyle!
On to Pipa
We left Marcelo and headed to Pipa, a quaint beach town with many ex-pats, good food and art to boot.
After settling we had a great meal with one of those ex-pats (Californian no less) and his Brasilian wife. Makes ya think about relocating! :-)