November 24, 2004
Chicago style Welcome
Our first day back J and I were greeted as only a November day in the Midwest can: with 3+ inches of snow and chilly temps to remind us that we're not in Kansas anymore (or Mediterranean Europe for that matter).
Nevertheless, one far more positive result of this realization was the imagine Christmas-story-esque views: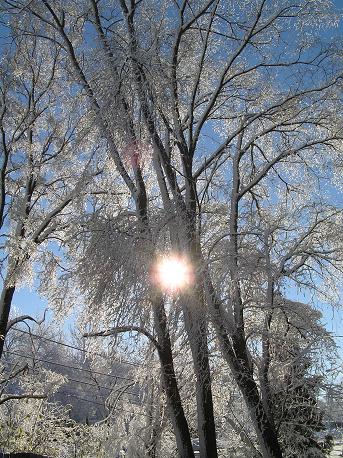 Parent's backyard cum Winter Wonderland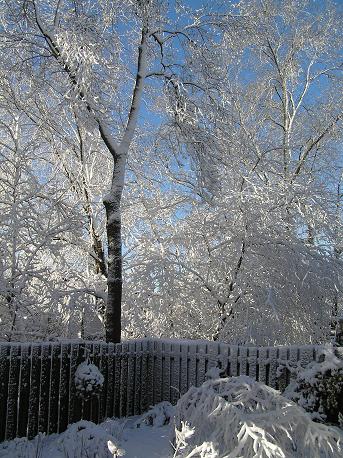 "You'll Shoot Your Eye Out!"
November 23, 2004

Sweet Home Chicago
Well, thanks to pea soup fog in Madrid and a narrow connection window in Frankfurt we missed our Chicago leg...which was more than a little disappointing given we had pegged the 23rd as our return date for many moons. That said we got a free night at a 4* and some decent chow and business class on our 9 hour return flight :-).
My wife had me convinced that given the number of countries we've been to, the time that has elapsed since the start of the trip and the number of countries we hit that the Custom officials would probably scowl at us and give us a thorough search and detainment...but all we got was a couple of questions and a quick wave to proceed, followed by a 2 hour wait for Janet's bag to finally be delivered to us by the incompetent Luftansa baggage handlers.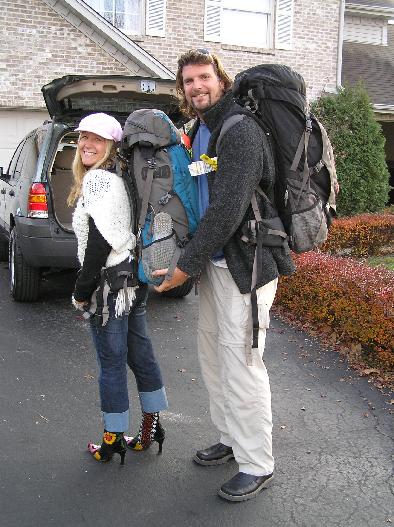 A Sort of Homecoming
So...........we come home with (slightly) mixed emotions. First and foremost, we are pretty well ecstatic to be heading State-side to be with our families and Chicago-based friends in time for the Holidays. Towards the end of our journey we found ourselves imagining who we'd see and when, how big the Salapatek, Hughes and Mangan kiddies had grown in the last year, tree trimming with the fam, Illini basketball games w/ Alumni friends, what San Francisco will be like, etc. etc.
On the other hand, there was a slight tinge of sadness with the knowledge that this was indeed our last leg before returning to the oft described and mildly concerning "normal life", one in which the challenges are far different and the subject matter quite familiar.
That said, we return a bit travel weary and more than a bit grateful for what we have experienced thus far and that we will be sharing those experiences w/ peeps we care about.
J and I will be working on a grande blog re-cap, complete with learnings and observations that I cannot promise will be insightful or entertaining but will at least be cathartic for us :-).
It's good to be home!
-us
November 22, 2004
Espania Recapo
Spain tied Thailand for the country we entered/re-entered the most times (four), so we covered a lotta ground :-):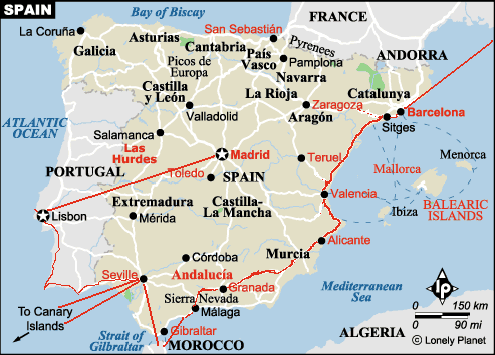 Stuff we found endearing about Spain:
Barcelona and Seville: Gaudi's masterpieces dotting the city skyline are reason enough to make the trek to Barcelona...and Seville had a small town feel with the cultural diversity of the big boys.
Tapas, Sangria, Cervesa con Limon and Paella: these are good enough on their own, but to enjoy them in the land that put them on the menu all but guarantees a memorable culinary experience!
Flamenco: an entrancing form of dance
The Spaniards lust for life: second only to Brazilian in its fervor
Art: Picasso and Gaudi would be enough to begin and end the list, but adding Goya, Velasquez, Diaz, Miro, Dali, Gris, etc. you gotta be impressed
Seistas: while often inconvenient to the traveler, I would not mind instituting them in the US
The Senioritas: we're talking beautiful women here...
Stuff falling somewhere on the amusing>annoying>disturbing scale:
(At times) the peeps: the Spanish were definitely not the friendliest people we'd met as a whole...not grouchy like the Greeks but occasionally aloof
Development: the coastline and, ESPECIALLY, the Canaries often suffered from unabashed and unsightly hotels and resorts
Prevalence of annoying tourists: often attracted by the above of course
November 21, 2004
Our last day in Madrid
(Sniff!). After exposing Mr. Bill to the delights of a chocolat con churros breakfast we headed to the Prado, Spain's most famous museum (and one of the best in all of Europe).
It had a wide breadth of paintings but we (naturally) gravitated towards those with mythological themes or the 20th century masters, such as Pablo: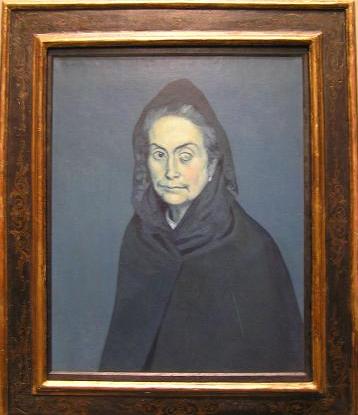 Kind of Blue
Don't think you were supposed to snap pics but I couldn't resist the above...
After spending the day roaming 'round the city (including a crowded and forgettable flea market) we sucked the marrow out of our last evening in Espania by sucking down some Spanish brews, more tapas than you could shake a belly at and a nightcap that insured I would be nice and hungover for the marathon travel day the next morning: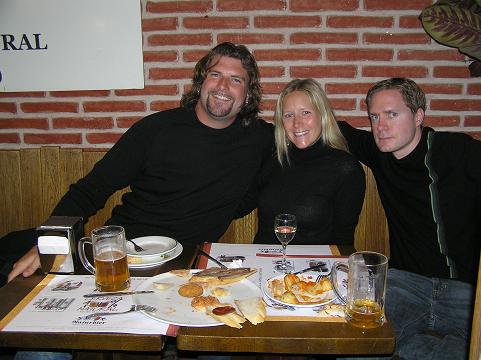 The Three Negra-clad Amigos
November 20, 2004
Mucho Madrid
Today Senior Bill, Janet and I explored the cosmopolitan splendor that is Madrid, starting with the Palacia Real, and if ever there was a "Real" Palace, this puppy would more than qualify. Aside from being absolutely massive...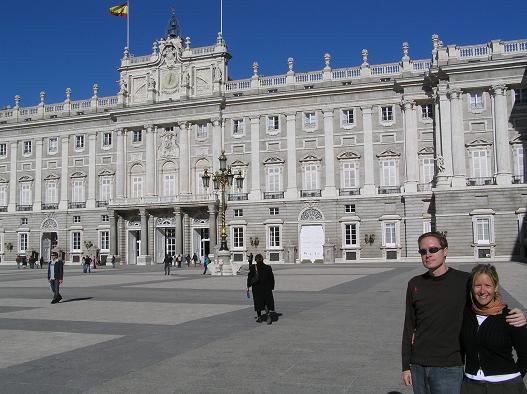 Keeping it Real
...it commanded a majestic view and, more impressively, had an interior about as gaudily decorated as they come: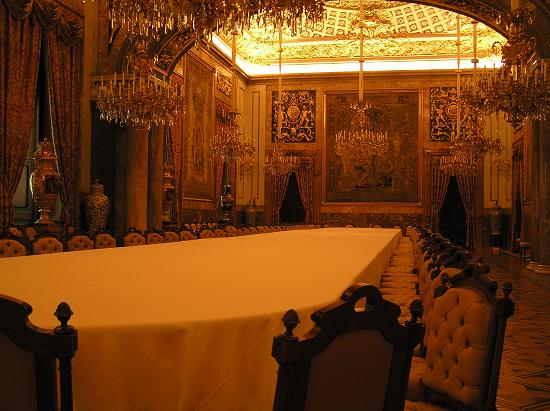 It's good to be the King
After a bit of well-earned gelato (tourism is hard!) we mosied on over to the Museo Thyssen, said to have one of the best overviews of 13th > 20th Century art on the planet. We were a bit wiped by this point, but it still managed to impress...
After a bit of unfortunately disappointing Paella, the old folks turned in early on a Saturday night in Spain (sinful, I know).
November 19, 2004

Spoiling Ourselves in Spain
For our fourth and last trip back into mainland Spain we decided to spoil ourselves (my wife's bril idea) with one of the few remaining benefits of my former indentured servitude: hotel points.
We managed to snag three (free) nights at Madrid's The Westin Palace Hotel, our first 5* on this trip (and then some). While we have absolutely dug the backpacker/hostel/budget options of the past 9 months, it was pretty damn gratifying to indulge for a long weekend in one of Europe's swankiest cities (not to mention the rather hellish, cramped and sleepless sleeper train we took from Lisbon the night before):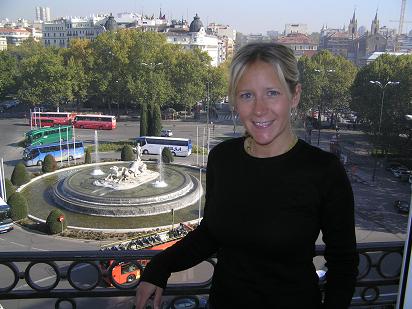 Room with a view
B/C the hotel assumed they were dealing with a long-term, high faluting client (fools :-)) they gave us a suite. While it was nice to have a room 8X the largest we'd had since we'd left the States, I was more than a little worried that I would not get my wife out of the room :-).
After prying the hair dryer from Janet's clenched hands we headed out to the Parque del Buen Retiro, soaking up a little sun amidst the fall foliage: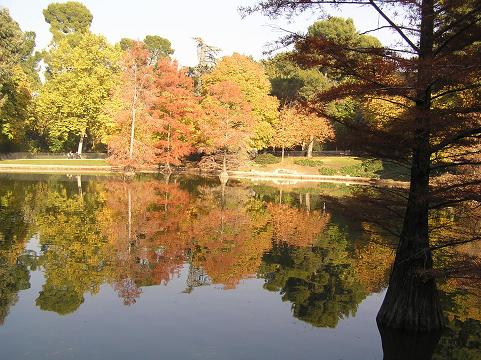 Saturday, in the Park (it was not the 4th of July)
After being mesmerized by a trippy manifestation of abstract art (picture about 100 glass arms serving as bell clangers operated by hidden motors in turn pulling strings within a huge "crystal Palace" from the 19th Century) we headed to the southern end of the Park to check out the "Fallen Angel." Created in 1840, it won some artsy award and was the first modern-day statue dedicated to Satan (leave it to the Spaniards!):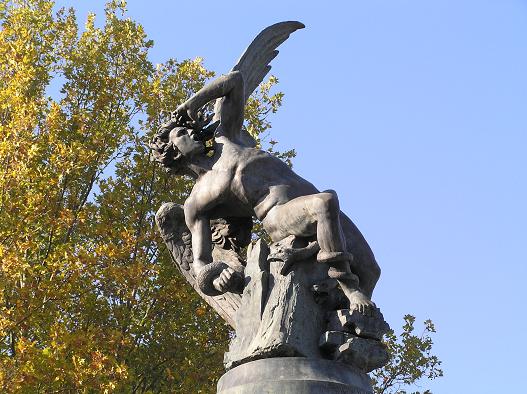 The Nombre of the Beast
We left Lucifer for Rena Sofia, one of Madrid's many famous museums. Post modern art gaping we were joined by our friend Dave (Mr) Bill who was on business in Barcelona the day before who, funnily enough, joined us at the beginning of our Asia trip (which seems like EONS ago at this point).
We spent the night catching up over tapas and vino tinto at a great little restaurant in the city centre. Yummmm.
November 18, 2004
Portugal Re-cap
First, ze map: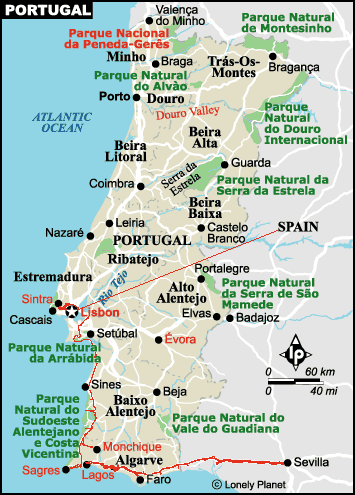 Next, the stuff we found endearing:
The people: Even setting aside the bias our wonderful hosts might instill, we can objectively state the Portuguese were the friendliest peeps we'd encountered since (at least) Turkey
The Coast: The Algarve was simply stunning
Food and beverage: Best fish we'd had in many moons (setting aside the fish ovaries of course!), pastries that I furthered the guts ballooning, this amazing almond liquor and muito delicioso vino
Lisbon: it's rare that a capital city of well over 2M people can maintain so much charm
Holiday Spirit: I'd hate to be the one stuck with the electricity bill in Jan
The fact that the next list is so scant!
Stuff falling somewhere on the amusing > annoying > disturbing scale
Reckless drivers: though I felt pretty comfortable behind the wheel, P has the EU's highest road fatality rate by a wide margin.
Sintralating
In the late morning J and I trained it to the nearby town of Sintra, whose pastoral views, castles and remote feel make it a favorite for Lisboan daytrippers.
We started our visit with one of the those hikes guidebooks classify as "vigorous" up to the ruins of Castelo dos Mouros (Moorish Castle), built by the invading Arabs of the 8th Century and reconquered by the Portuguese 400 years later. We got some sweet views both below: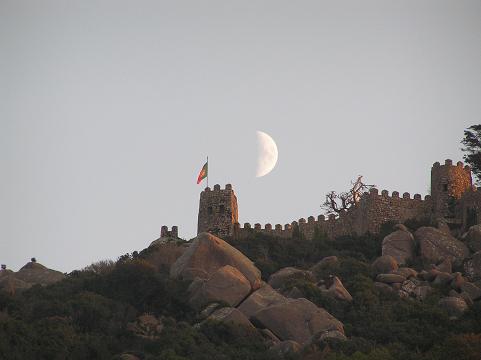 Moon shot
and from above: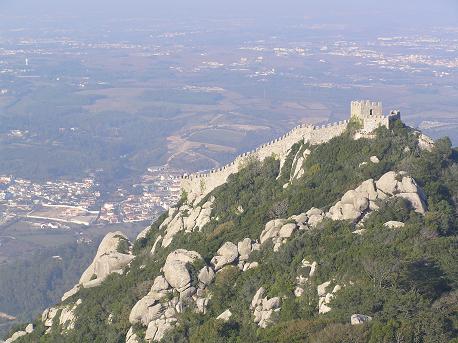 Missionary view
Next we hoofed it further up yon road to the Castelo's younger cousin, the 19th Century Palacia Nacional Pena. Constructed in 1840 by King Ferdinand II one is immediately struck by its colorful exterior, giving the Palace a whimsical, Disneyesque quality: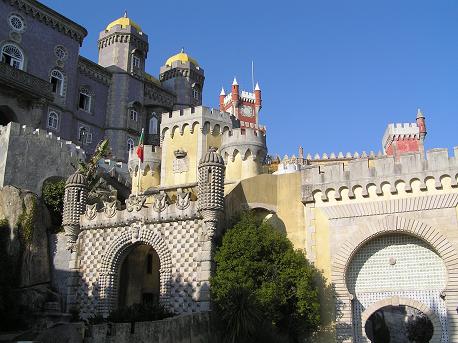 Enchanted Kingdom
After taking in the stunning views the Palace afforded we returned to the city center to wander 'round the hilly, Christmas decorated streets, pausing to indulge my fascination with water sports: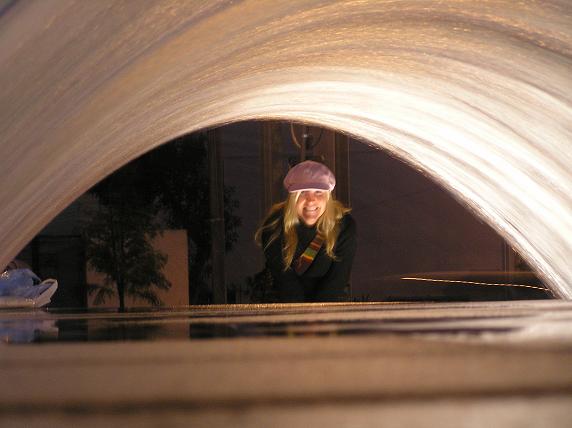 Girl in pink hat, through fountain
We returned that evening to Lisboa to say goodbye to our extraordinarily generous friends who'd hosted our travel weary butts for the past 4 days. It was tough to say leave Rita and Diogo (and the city they call home) but Madrid (and the promise of Thanksgiving in Chicago) beaconed.
November 17, 2004
Monasteries, Towers and Tourist Trams
Today we hoofed it from Rita's apartment south to the Parque Edwardo VII, a vast expanse of greenery in the middle of the city whose centerpiece was a maze-like, seemingly infinite stretch of well manicured hedges stretching the entire length of the park: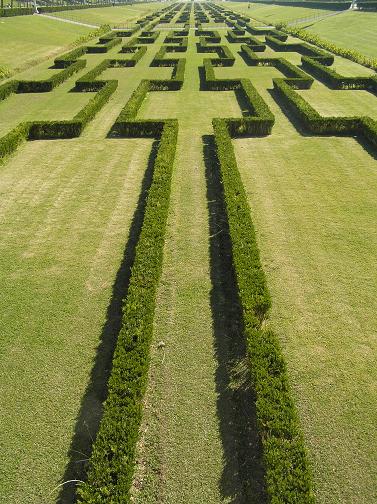 Hedgehog Heaven
After strolling down the Aveneda de Liberada (named after the bloodless coup that toppled the dictatorship in '74) we walked up our third of the seven Lisbon Hills to the neighborhood of Bairro Alto where we took in a city view opposite the castle, then on to Belem, a garden neighborhood 3 km from the city center.
Upon arrival we were greeted with the opportunity to ride one of those cheesy "tourist trains" and given the absolute campiness and the fact that we had it to ourselves we simply could not resist...in spite of the laughs and jeers we received from the locals as we road 'round the Bellum :-)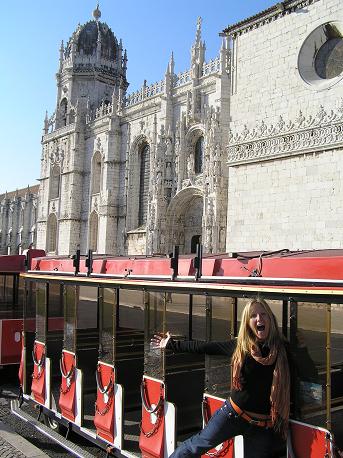 Who wouldn't be this thrilled??
The Belum's main sites are the monastery (a really lovely building, especially by sunset):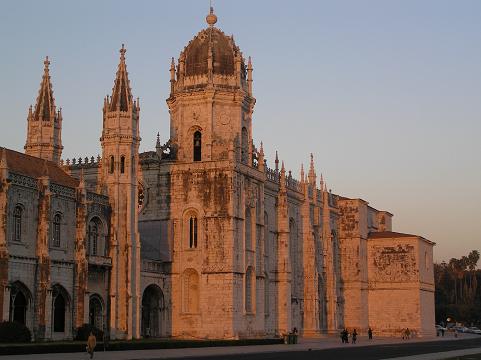 Monasteiro dos Jermminos
as well as the famed Torre de Belem, the tower where the renowned Portuguese explorers of the 15 and 16th Centuries where given a blessing and send off before departing for the new world: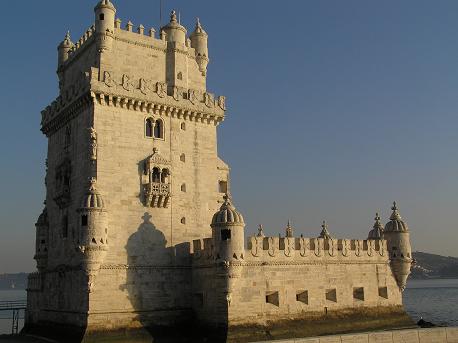 The bella Bela Tower
And we naturally had to end the day with a sweet (or four), stopping off at the 150+ year old Pastry factory, whose ornery waiters where more than offset by its sumptuous Lisbon specialty custard filled cakes was of: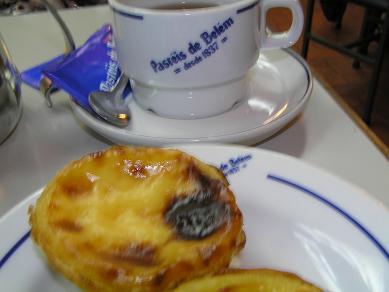 Pasties DE BELUM(icious)
Later that evening Rita took us to a cool port tasting restaurant and then on to dinner with Diogo. A busy but properly indulgent day :-)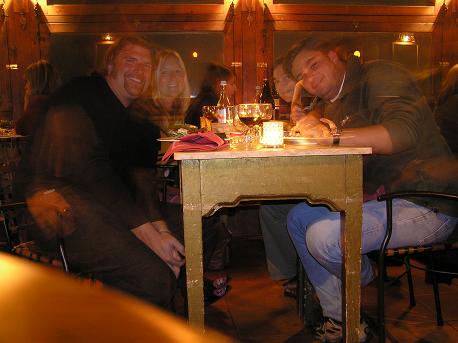 November 16, 2004
Exploring Lisboa
After receiving the royal treatment from our fabulous hostess we ventured out into sunny Lisbon, a city we immediately found charming in that quaint colonial kind of way (cobblestone streets, old fashioned trams traveling down steep hills, cafes & castles) in spite its large size (over 2 million residents).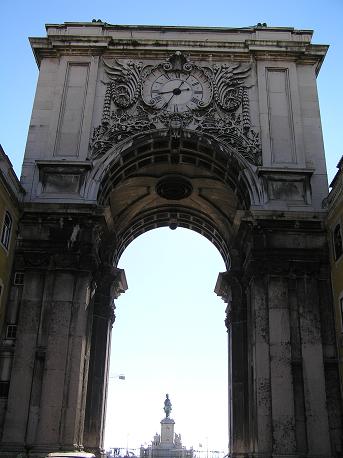 Arch off the Praca do Conrio
We then meandered through the narrow streets of the Alfama neighborhood, slowly making our way towards the Castelo de Sao George (St. George Castle), which featured stunning views of the city: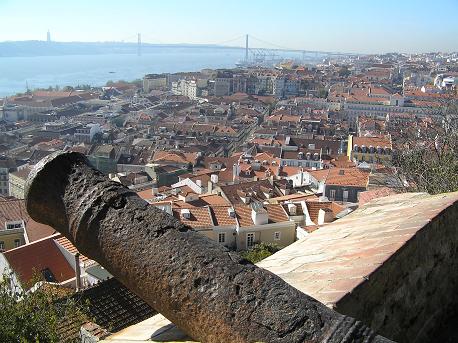 Happiness is a warm gun with a nice view
as well as the well preserved castle itself with the typical parapets, moats and drawbridges sure to captivate any male :-)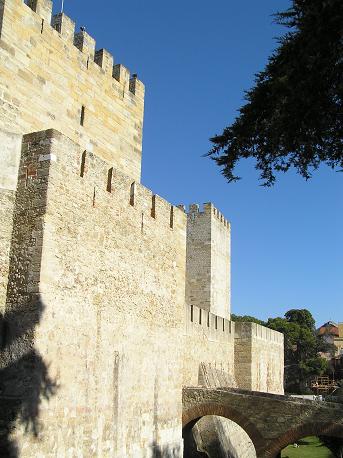 Storming the castle
After a tasty lunch and well over an hour spent at a wine shop specializing it what must be our favorite Portuguese export (Port wine!) we headed with bottles in hand to the area of Baxia. Diogo and Rita must have informed the mayor of Lisbon of our arrival as he waited for us before commencing the annual Christmas lighting ceremony :-). The Portuguese truly get into the holiday spirit...as evidenced by the many brilliantly illuminating boulevards: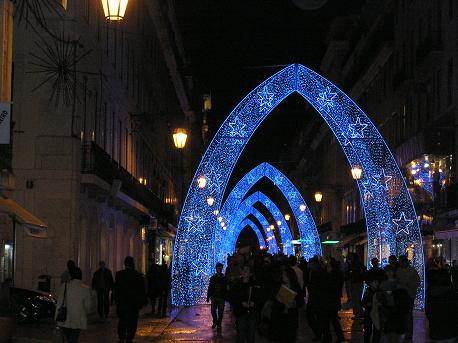 City of lights
November 15, 2004
In Search of Greens and a Taste of Home
This morning we left the cozy hilltop environs of Montaque and drove back the the coast where we happened upon the (nearly) deserted Trioja Golf course, purportedly the 20th rated course in Europe. It was a bit pricey but the woman at the pro shop heard me lamenting the cost and offered a discount...sometimes it pays to whine :-).
Despite not having stepped a spiked foot on the links in well over a year I actually played reasonably well (for me that is), managing a 104 on what was a pretty tough (and pretty in it's own right) oceanside course.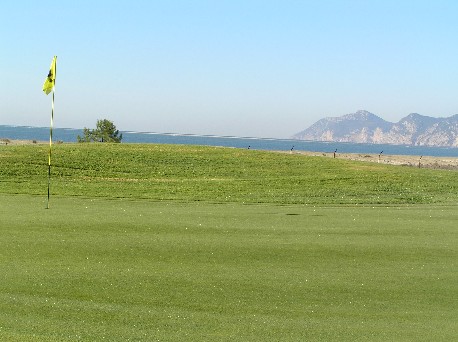 Seaside Greenery
In any event, it was awfully nice to have the course to myself...a chilly morning and the hour + drive away from Lisbon was apparently enough to keep Portuguese duffers away. On the back nine I was lucky enough to pick up a HOT caddy...she was a bit more of a distraction then an aide de golf but I'm not complaining ;-).
After hacking about my caddy and I headed north to the Parque Natural da Arrabida, a lovely park that with amazing views of the sea and the forested hillside (and a cool drive as well...one of those twisty ones):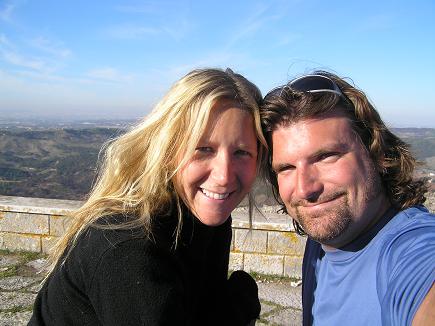 Parking it
Afterwards we dropped our wheels at the Lisbon airporto and were picked up by our friends Diogo and Rita, who we met on our "Blue Cruise" in Turkey back in September. We headed for one of seven hills of the amazing city of Lisbon, just in time for a sundowner overlooking a bridge that looks remarkably like the Golden Gate: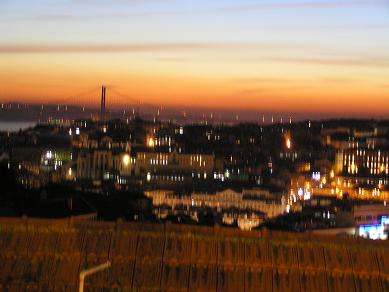 Golden sunset
Next our amazing hosts took us back to Rita's Lisbon apartment where we met her two shy (but incredibly cute!) boys Manuel and Francisco and were treated to more yuuuuuuummmmmy Portuguese cheese, wine and meat than we could handle.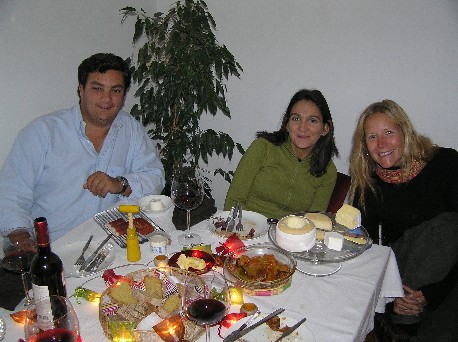 Supping' at our homey environs with Diogo and Rita
November 14, 2004
The End of the World
No, this is not another rant on Dubya, but what was once thought by sailors of yore...better known as Sagres today, the most Southwest point of the European continent. Back when navigators believed the world was round, the area around Sagres was believed to the last point before the edge of the sea.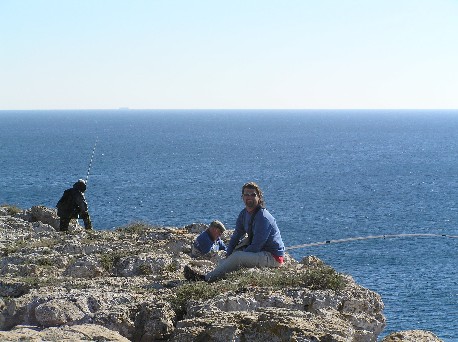 Jim sitting fearlessly on the edge of the world
...looking out one can´t help but be impressed with the vast expanse of the sea, contrasted with the craggy Algarve coastline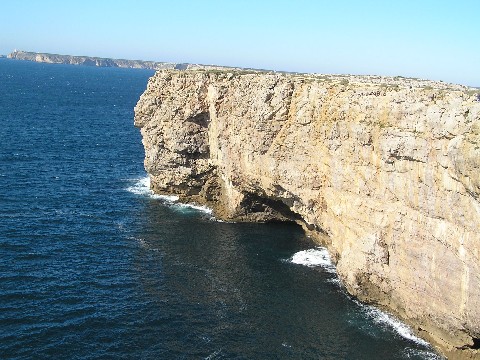 The coastline attracted more than tourists...in fact a fair amount of fisherman were perhed precariously along the cliff edge hoping to snag the dinner that swam hundreds of feet below. I managed to snap this fellow actually pulling a fish from the sea: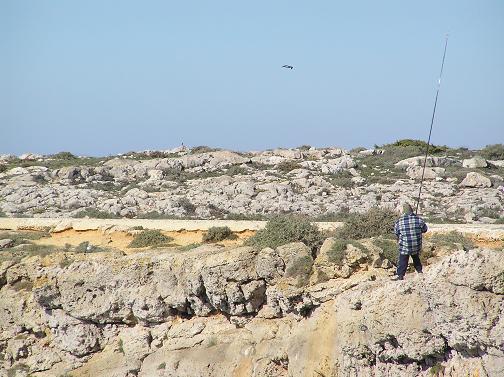 The Angle of the Angler
After checking out the nearby fort of Saint Vincent (circa 17th century) we headed north to take in more scenary (braving the chilly winds):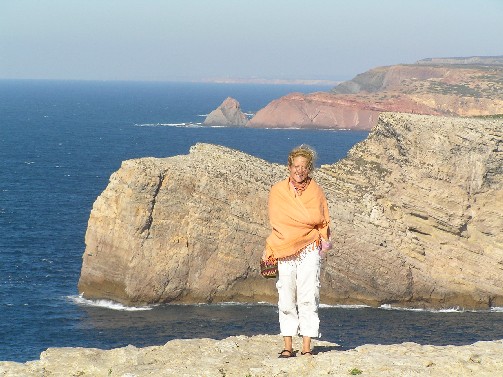 A Chiiiiilllllllly Wife
After heading a bit further north to check out a castle in Aljazure (a bit anticlimactic...billed as the "castled town"...not quite!) we ditched it for Montique, a hilltop town 70 km inland. The drive was fantastic and though it was even chillier than the coast, it matched its beauty: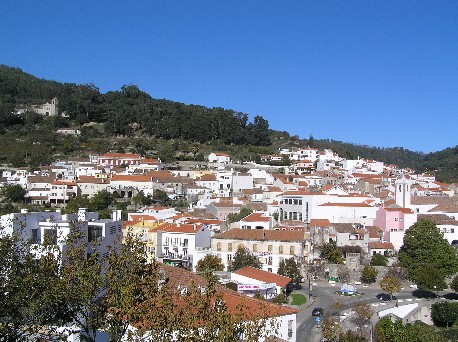 Montinquing
November 13, 2004
Alluring Algarve
After a little finageling we managed to rent our first car since Greece (where my California driver´s license has taken up permanent residence). Have to say the freedom that wheels provide is something we have missed...it´s nice to dictate where and when you´re going...
It is even better when the "where" is the amazing Algarve, the Mediterranean Coast of Portugal. After a scenic drive from Faro, we arrived in the beach town of Lagos. Granted, it is a bit cold this time of year, but that did not detract from the beauty of the golden, jagged cliffs against the azure sky:
We hit a trio of beaches, each with bunches of rocks jutting out of the sea. The first of which was Dona Ana: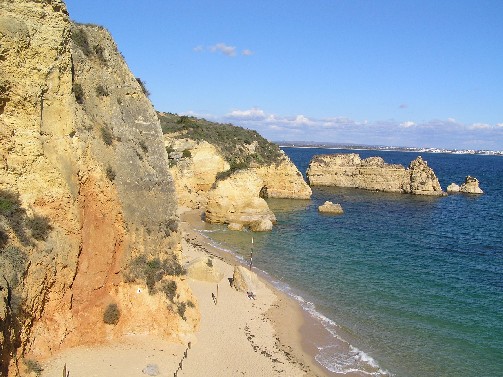 Bella Dona
followed by equally picturesque Homens Pinaho: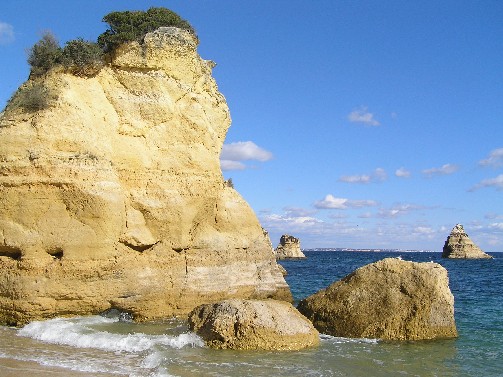 Waves Rolling 'Round Rocks
For the gran finale´ we drove up to the Ponta da Piedade which features a huge rock formation hallowed out by the sea: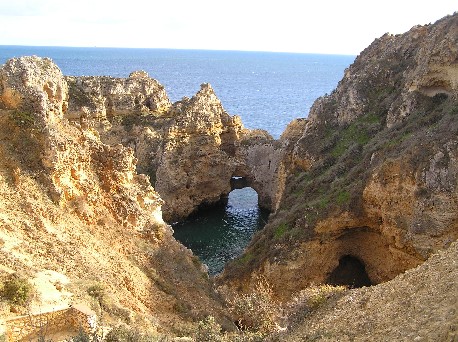 After meandering among the cliffs we headed to Lagos town which was surprisingly charming in that lovely Portuguese colonial way (cobblestone streets, cafe laden squares, art shops, restaurants galore).
We even looked into a bit of diving. My wife was put off by the 12º Celsius water temp, I by the three days required to arrange the trip (it being low season and all). Needless to say we passed.
November 12, 2004

Just peachy in Portugal
We arrived in Portugal last night and experienced one of those magical travelers' moments - where you have no place to stay, no map of the city you are arriving in, etc. And not 2 steps off the bus, we are greeted by the owner of a residential pension within our price range who drives us - and more importantly, our bags - to the place to make sure it is up to our standards. It's the nicest place we've stayed in for months! I love it when this happens.
We spent today enjoying the sweet port town and transportation hub that is Faro, Portugal. We hoped to take a boat ride out to some neighboring islands, but had to settle for a few hours walking along Praia de Faro instead (Faro Beach). It was a bright and sunny day, but still chilly.
We had a lovely Portuguese dinner at Bruno's (sounds Italian, but it's authentic Portuguese). Indulging in seafood delights of HUGE proportions and amazing Portuguese vinho tinto (red wine) for pennies! We had to finish the night with some port - you know, when in Portugal. And before we were even finished with our glass, the waiter brought us another sweet wine and followed that up with a Portuguese version of Amaretto. Divine!
Tomorrow we begin our roadtrip to Lisbon - or Lisboa as they call it here in Portugal. We are going to spend a few days traveling up the coast where the views are supposed to be amazing....many pix to come. Then we are going to meet our friends Diogo and Rita from the boat trip in Turkey who live in Lisbon. The plan is to spend a few days in what Diogo promises to be 'the most beautiful city on our trip' before heading to Madrid where the trip will come to an end :) :(
more soon!
November 07, 2004
Diving Canary Style
We dove "El Cabrone" in Gran Canaria, which means something dirty in Spanish (I remain blissfully ignorant). While the water was certainly chillier than the Red Sea, it was still a cool dive, featuring a crazy spider-looking crab (Arrow Crab), a couple of Moray Eels and some cave exploration.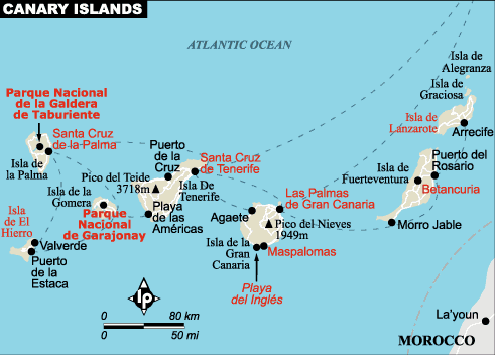 Tweety Bird Isles
Post dive we ferried to Tenerife, about 100 km to the West of Gran Canaria, settling for the night in the quaint town of Santa Cruz for a yummy dinner. The next morning we bussed it south to Playa de Cristios, a very developed, touristy place that isn´t quite our speed, but we were hoping the diving made up for all of the pubs that serve to make the multidude of Brits feel at home for the two week duration they are away from footbal, pints and bangers & mash.
Unfortunately the diving was not really "all that"...my first dive (solo...Janet was not up for the chilly plunge this time ´round) included 10 locals (the shop said there would be 4 other divers) one of which was a 12 year old kid...which a) is not legal, b) is dangerous and c) takes a bit of fun out of the dive (I waited for 1/4 of the dive for our young friend to descend). The visibility wasn´t that great, tho I did see my first Cuttlefish...they´re pretty crazy looking.
Today we dove Mara Azul with a more repudable shop...pretty cool dive, lots of boulders and rock formations thanks to the once active Volcano on the Canaries...but the three were far from our top dive spots :-(.
Tomorrow we head back to mainland Spain (Seville) for a night before heading to Portugal for a week.
November 04, 2004
Escape to the Canary Islands
Not that we would need an escape from the wonderful city of Seville...nah, more so from the painfully fresh news of Dubya´s triumph. I promise to keep the political commentary to a min for a while...frankly it´s faaaaaaaaar too depressing anyway.
So, what do Janet and Jim do when the going gets tough? You should know by now that they pack up and head for the beach. That being said, there aren´t many warm beaches in Espania in November, save the Canary Islands, which are closer to Africa than Europe but still owned by Spain.
Actually, we had planned this side trip a ways back...got great airfare and figured we could use a little Costa del Sol before heading back to Fall in the States. Plus Gran Canaria and Terrife purportedly have some of the best diving around...and it would make for 6 out of 7 continents we´ve seen under water.
The Canaries are actually only a few hundred KM from Morocco but, unfortunately for us, there is no ferry service to or fro so we had to travel all the way back to Spain to fly a scant distance from where we were a few days ago....so far it´s worth it :-)
We spent the day (of course) at the beach, trying to rejuvenate our rapidly fading tans in the Southern Coast of Grand Canary. GC also features 1.5 miles of huge and awfully impressive sand dunes, which we managed to clabor around for a bit: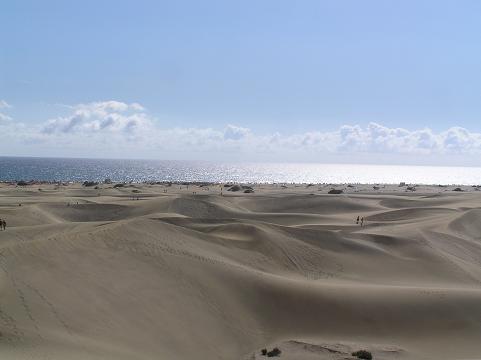 Dune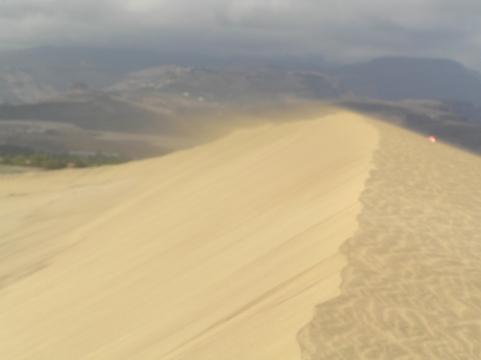 Dune, Part Deux
The guidebook failed to mention the sheer size of MalloraPalma, nor the prevalence of nude sunbathers. It was probably the largest beach we´d been to, and certainly the largest nude beach ;-) (unfortunately most of the sun bathers were in their 60s).
Tomorrow we are diving near the capital of the Island before ferrying it to Terrife, Grand Canary´s Western neighbor.
November 03, 2004
So Fucking Disappointed
Can someone please enlighten me? I simply am at a loss to come up with a viable explanation for how the majority of Americans voted for a regime with the following to its credit:
Fiscal (Ir)responsibility: Went from a $5 trillion budget surplus to a projected $5 trillion deficit (a $10 TRILLION SWING). Instituted the largest tax cut since Reagan, following that up with two additional cuts, primarily aimed at benefiting the top income bracket. Dollar has fallen to record lows and shows no sign of recovery due in part to rightly placed concerns over US´s ability to get out of debt.
Economic (Ill-)health: the first presidency in since Truman to see fewer net jobs then when he entered office. Has presided over a largely jobless recovery, with only the last two quarters (barely) witnessing more job creation than increases in the workforce
Iraq: One could write a 1,000 page treatise on this one and still have ground to cover. Pressured our own supposedly independent agencies to come up with any shred of evidence to suggest the hint of WMD to serve the regimes economic (the largest consumer of oil sure could use the assurance that the country with the world´s second largest reserves is available eh?) and political (let Iraq be a beacon of democracy for its neighbors!) goals. Ignored the sound reasoning of Allies to confirm WMD that never existed, chastising them like a petulant child at their refusal. Implemented a decent plan for toppling those in power, though it´s questionable if the regime had much of a plan for nation building (which is surprising given how wonderful our Gov has proven at it in the past). Now left with a quagmire with no clear end in sight with the country in complete disarray, arguably more suitable for nuturing terrorist cells then when Saddam was in power. Not to mention the cost, both in $ and lives...with one survey pegging Iraqi civilian casualties in excess of 100,000 (and counting).
Foreign Policy: Let´s start with 9/11. Instead of using the tragedy to bring sensible nations and peoples together, remained true to the oversimplifying, every-thing-is-black-or-white mentality that colors all its policies and polarized the world by declaring "you´re either with us or against us" and went as far as to use the word "crusade" when referring to his war on terror (which he quickly recanted...for whatever THAT was worth). Went on to stoke additional hatred and potential disaster with his inane "axis of evil" bullshit. Pulled out of the nuclear test ban treaty with Russia, has done little to broker peace between Israel and Palestine (some might argue has actually hurt the effort with its unequivocable support for Sharon), thumbed his nose at the UN countless times, etc. etc. Is it any wonder that a 2004 survey among EU citizens voted Iran, Israel and the United States as the three countries threatening world peace the most?
(Un)Civil Liberties: Instituted the Patriot Act, whose sneak and peak provisions allow for the unannounced surveillance of suspected terrorists in just about any setting, including private residence (an Oregon attorney whose fingerprints were similar to a suspect in the Madrid bombings had "suspicious documents" (his son´s Spanish homework) removed from his home unbenknowst to him and was then arrested and detained in solitary confinement for two weeks without access to an attorney. Asscroft and his henchmen went as far as recommending a citizen´s taskforce, rewarding those who turned in the neighbors on suspicion of terrorist activities (quickly rescinded after it was leaked to the press) . This kind of shit makes "1984" look like Reader´s Digest.
Environmental (Destruction) Policy: made the US the only Industrialized Nation to reject the Kyoto protocols...even RUSSIA assented! Has done little to encourage alternative energy R&D, rather has aided his fellow Texans and VP by pushing for opening up Alaska...now there´s a solution for ya! Appointed those lobbying AGAINST environmental-friendly policy to key EPA posts...the EPA has since allowed lawsuits against oil/gas/power companies to disappear and has starved other initiatives, loosened regulations on formerly protected lands, etc etc
Health Care(less): Despite spending more on Health Care than any other nation on the planet the U.S. Health Care system is ranked 37th in the world.
And let´s not forget the unabashed cronyism (i.e. the no-bid contract for Haliburton, of which Dick still ownes over a $1m in stock options), unashamed mingling of church and state at every turn, the politicising of what should be non-partisan institutions such as the FBI, CIA, Armed Forces (which has led to more in-fighting than has been witnessed in recent history), Guantanamo Bay civil rights fiasco (land of the free supporting 100s of prisoners being held w out charge and w out right to legal council) and perhaps above all, their insistance on never admitting a mistake or changing directions when logic and sound reasoning (perhaps THAT´s the problem!) point to the need to.
So how is it that after this long and infamous list, which does not even scratch the surface of the atrocities committed by this regime, that Dubya and Dick are back for round II? Who are these people masquerading as my fellow countrymen? Are the 52-odd percent of those that voted for Bushy all Jerry-springer-watching, bible belt wearing, homophobic, fox news addicts who put the fear of Osama ahead of conscience?
I wonder if it would be feasible to start a referendum to separate the West Coast, New England and States around the Great Lakes into its own country. Then again, there´s always Europe or Canada...
November 02, 2004
A Fashion Digression
Maybe it is because I have been out of fashionable countries for so long. Or maybe it is because I've been a fashion nightmare all of my life. But Spain has really wowed me with the fashion statements.
You folks there in the States may be seeing these trends for some time now, but they are all new to me. So for those of you who care, here's what I'm seeing is hot in Europe (or at least Spain):
The COLORS
Think Pink!! - Go ahead and pick your shade from coral to fuschia (although brighter seems to be better). Make a choice (only one shade, please) and then wear it from head to toe. Pink shoes with pink socks with pink sweater with pink belt and pink purse and pink scarf. Unfortunately, I couldn't find any pink hair. Therefore I am still as unhip as I've always been.
Be Seen in Green - A distant second to pink, Green is definitely all over the scene. Again, the color runs the gamut. From sea green to kelly to chartreuse. Not so much a head to toe look like the pink, but pretty much.
Crayola Yellow - Worth a mention...this eye-popping, traffic-stopping color is definitely all over.
The CLOTHES
Cropped or Rolled pants - Usually showing off the boots (see below), the cropped look also displays the hosiery. Lots of crazy stripes and prints in either tights, knee high socks or nylons. And the always fashionable fishnets are still hot.
Ponchos - Okay this one was starting before I left the States, but it is really catching on. Tons of different colors and fun knits. I'm a fan of this one.
The FOOTWEAR
Boots - Worn with the ubiquitous cropped/rolled pants. Any type of boots. And the heels also run the gamut - from flat-heeled wrestling boots (I, of course, am not a fan of this one) to the tiny silver heels and of course the high, high heels (my fave!)
White shiny boots - Lots of these around. In ankle length, mid-calf, knee-high - you name it. There also quite a bit of shiny boots in fun colors like green and pink (of course), but also blue and yellow.

Seductive Seville
We arrived in Seville last night - and even the view from the bus showed that Seville is a really sweet little city. There are beautiful fountains at every other corner, sweet shops and cafes line the streets and tapas and delicious Spanish wine and cheese every few feet! I'm so happy to be back in Spain :)
Today we headed off to the Cathedral, one of Spain´s most famous. The price of admission kept me out of it, so I'll let Jim do the talking here, since he went in: The cathedral was appropriated from its former Mosque status around the 10th Century and has been in use for well over 1,000 years. Styles fluctuate a bit with the times but Gothic dominates: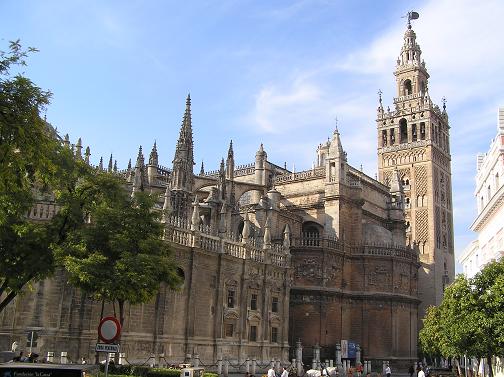 Las Cathedralas (Jim´s attempt at translation)
The Cathedral is supposedly one of the world´s largest...and with an organ with 7,000 pipes, a 30 story+ tower and a sacristy featuring ornate renditions of biblical scenes done in gold flake (1 ton of it! now how many supplicants would that have fed back in 1500AD?) one can indeed feel a bit overwhelmed: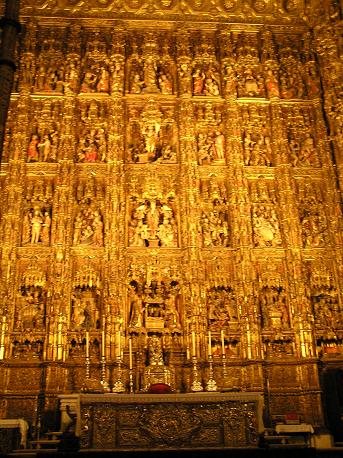 Gold Rush
After that we took a bag lunch to the Alcazar, a few hundred meters from the Cathedral but light years away in terms of style and purpose. The Alcazar was a Muslim Palace from its inception in 931 AD and then appropriated by the conquering Christians from around 11th Cent onward. It features a pretty stunning blend of Spanish and Muslim architecture, suggesting that the two cultures were harmonious more than at odds with one another: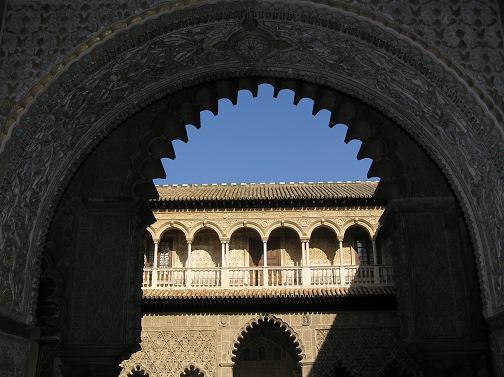 Middle East Meets West
The other impressive Alcazar feature is the acres of beautifully manicured gardens that surround the Palace, which we took in along with a sandwich and cookie or two :-)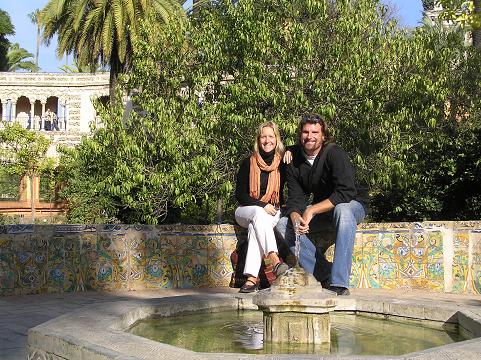 Tranquility
And I had to include this snap of Jim´s as it´s so freaking cool!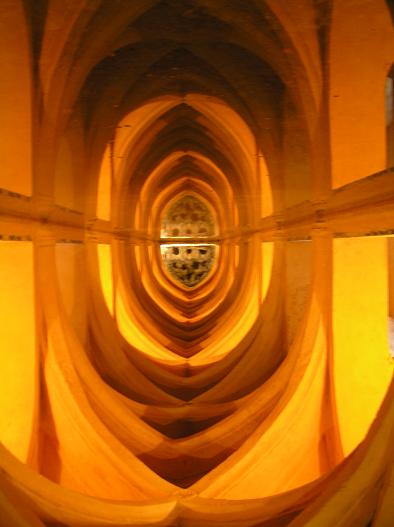 Reflecting on the reflections
Back to me: We ended the afternoon with a little digression to the 'Emergency Medical Assistance' building. Not exactly an emergency, but way back when in Athens, I managed to step on "something" that had lodged itself in my heel. Since I didn't feel said 'something' when it penetrated my foot, I figured it was harmless and my body would just 'take care of it' if I ignored it long enough. Not quite, I guess since I had been unable to put pressure on my left foot for the last 2 days.
The Spanish doctors were quite unhappy to hear it was WEEKS old and not hours (or at least that's the impression I got through our language-impaired communication). But the 'something' was removed pretty quickly and ridiculously painlessly (I had, of course, imagined a scapel, big incisions and walking on crutches for the remainder of my trip!). It ended up being a sliver basically - some small sharp thorny looking thing that was incredibly ill-sized for the pain it was causing me.
And the best part of it - all this medical assistance was AT NO COST! Gotta love socialized medicine :)
We ended the evening seeing the Patricia Barber Quartet - a fabulous jazz group who hail from Chicago. They played a lot of songs from their new album as well the Beatles' Norwegian Wood. It was an incredible show. Great music. Talented musicians indeed. And Patricia is an amazing vocalist.
November 01, 2004
Blog ISSUES...Chalk this one up to a ¨learning experince¨

Well, it appears that my cheap and far-from trusty Internet hosting service had a disk failure the past weekend and (foolish me!) I assumed that any halfway competant service would properly back up the disks storing all of their clients´files, etc.

Not so with Ace-net, who happens to be my provider of choice. SOOOOO, all 1000 (plus) images that have fed the blog since February are gone...finito...puff...disappeared into the black hole of insufficient data storage.

At least the text still lives...however it will be some time (if ever) that the images reaapear as it will take a helluva lot of manual labor to bring them back online.


Morocco Wrap-up
First, le map of where we meandered: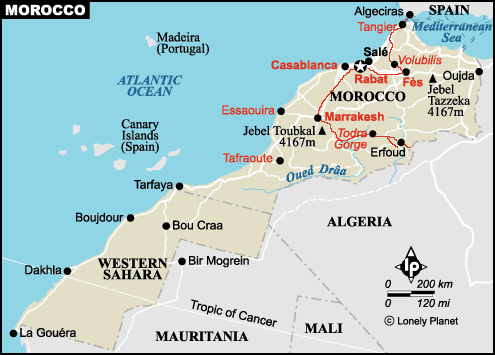 Stuff we liked/ found endearing:
The landscape - surprisingly varied and strikingly beautiful
Prices - cheap, cheap, cheap!
Mint tea - yum, yum. Fresh mint leaves right in the cup! They call it "Moroccan whiskey" - hee hee
Marrakech - Colorful city with beautiful gardens, busy markets and loads of energy
Moroccan sweets - We probably indulged in these a bit too much. The chewy nougat sold in Fes, the delicious pastries of Marrakech. DEEEE-licious!
Trains - Since a lot of our travel days are l-o-n-g ones, we always appreciate expeditious and timely transportation. And Moroccan trains get props for that!
Stuff falling somewhere on the amusing/annoying/disturbing scale:
Pollution - it can be a bit rough on the respiratory system, to put it lightly
Kamikaze moped drivers - these freaks flooded the streets!
Lack of liquor - where can you get a drink in this town?!?!?
Touts/hassle - I think the hassle is directly proportional to the number of carpet salesman there are in any town ;)
Lack of variety in menu options - The steamed vegetables are delicious. Do you want them with coucous or without? With meat or without? That's about the range.