June 29, 2004
2,000 Km (give or take) later...
Deciding that a change of scenery was in order (for Sugar this actually meant change of continent ;-)) we left the Wild Coast for the last leg of our 2,000 KM + roadtrip. After dropping Greg off at the airport, J and i headed to Durban, the 3rd largest city in South Africa.
Tracing the roadtrip's progress
Durban isn't terribly remarkable...really another big city but we're grateful for a decent 'net connection and reasonable laundry services :-).
Foiled by the rain, we had to forgo a golf outing but hopefully we'll get the chance to do a little diving before we leave SA for the more temperate environs of Mozambique, about a day's journey north. While we dig SA, warmer beaches are 'a callin'.
June 28, 2004
More Bite than Bark

After spending a lovely few days in Coffee Bay, we decided to continue our journey up the east coast towards Durban. With Jim's speedracer skills behind the wheel we were making excellent time ;)

We landed ourselves in Umzumbe, a small town on the Hibiscus Coast where Jim and Greg had a date with the ragged-tooth sharks that swim in the waters.

We stayed at the Moon and the Mantis Hostel - which was *ridiculously* cute - wooden walkways, a sun roof, bar and pool table, nice sitting room, big kitchen, adorable cabins....you get the idea.

There were 4 BIG dogs that also called the hostel home. And I thought they were as cute as they were big, until....

I had the unfortunate experience of watching the dogs - literally - attack 2 different men on 2 different occasions. I had never seen anything like it - and hope never to again.

On both occasions, I was opening the large double gate so Greg could pull the car out when the dogs raced out and just ATTACKED a human being. The first was a man walking down the street at night, luckily he had a big stick with him (most folks carry them when they walk at night) so he was able to escape with torn pants and scratched legs. The hostel manager said he used to work for him and paid him off with 50 Rand (~$8).

However, the gentleman who was taking his gardening out to the curb the next day was not so lucky. Having no defenses at his disposal, the dogs managed to get a good bite out of his hand. The hostel manager brought him to the hospital where he received 2 stitches and tetnus shots.

The experiences proved entirely too unnerving to stick around any longer. I found myself a bit paranoid around the 'pups' (thinking what am I going to do to set them off?). These attacks were entirely unprovoked and just vicious. I swear I'd never seen anything like it - the dogs just raced out of the gate and CHARGED these men. There was no threat to anyone or the property - nothing. It was horrible.

What I found additionally surprising was that this seemed to happen a lot and almost as a matter of course.....I talked to the cleaning and help staff at the hostel and learned they had both been attacked by the dogs as well - one of them on repeated occasions when he comes on the site at night. And they all had stories about friends that had been attacked by bosses' dogs.

And equally interesting, on both occasions I went after the person to see if he was alright (after getting the beasts, er I mean, dogs, behind the gate). The 'victims' never were raging or screaming at me or the dogs (like I would expect to happen at home - with threats of lawsuits and police action, etc). They almost seemed ready to just go on with their day without overt complaint.

When we asked why the dogs weren't prevented from accessing the carport or some precautions taken, everyone's reaction was 'Well, these things happen. It's no one's fault the dogs get out.'

Needless to say these dawgs (being me, Jim and Greg) got the hell out of there!

June 26, 2004
Coffee Bay
My two coffee loving friends could not resist a stopover in the Bay of Java. Actually, what drew us there was a return to the backpacker scene (and the yoga class taught the next morning...OF COURSE). It had been since Chiang Mai since we'd basked in the warmth of likeminded (if not younger!) fellow travelers and we'd been hankering for accommodations that were a bit more social than the last few weeks.
Bomvu's friendly staff and guests did not disappoint. After a late check in (and a near death experience on the highway...don't ask!) we settled in.
The following day we signed up for what was billed as a "walk" filled with "Bliss(ters)" which turned into more than a walk and provided more than a few of the 'sters. Nevertheless, the hike to "The Hole In the Wall" was pretty darn gorgeous, in spite of its mundane name.
The lovely couple risking life and limb for the snap
The "walk" featured a fair amount of wildlife including a school (?) of ~ 30 dolphins swimming just offshore and more lambs than a New Zealander could shake a stick at:
Wooly Bully
The hole which or 4 hour walk promised was a bit anticlimactic but was still pretty cool...
Not just any hole in the wall
After our "stroll" we enjoyed a much deserved beer at the Hole in the Wall restaurant (props for originality!), dinner back at the lodge and a traditional Zulu dance & drum session that lasted well into the evening.
June 24, 2004
On the Garden Route
Today we set off for the Garden Route, a road which leans to the developed side of the fence but the commercialism has not detracted from the beauty of the forested hills and fields along the way.
Yours truly's lead foot helped us progress a good distance and, other than a yummy stop for some beer and oysters in the quaint seaside town of Knysna, the drive was w/out much excitement:
Janet, momentarily mollified by mucho mussels
June 22, 2004
Farewell Momma, Hello Garden Route

We spent a pleasant AM spent at Kirstenbosch Botanical Gardens. While locals boast it's the best in the world, I was not convinced enough to bring my camera, so now pics today :-). It was quite nice, but a little bit of a snoozer for yours truly (though Janet and Mom dug it).

We said goodbye to Mom and headed back to our B & B. Next we are heading East on the "Garden Route" , which is said to be yet another amazing drive through mountain passes, etc. The three of us may also brave the c-c-c-old waters to do a little diving. Stay tuned...

Whale Watchin'
Today we took a scenic drive to the town of Hermanus which, unfortunately for its inhabitants, is an easy target for pranksters who easily victimize Hermanians by scratching out the "m" on signs. We experienced this first hand (the prank that is) on a sign urging "Keep Her(m)anus Beautiful." Too funny!
In addition to its vulnerability, Hermanus is also known for whale watching...as if we could not get enough nature on this trip already!
However we quickly learned that unlike the Bush one needs a lotta time and and a whole lotta patience to spot 'em. Janet, who has infinitely more than I, was the first to see a tail in the water:
Jim watching Janet watch the whales
Whales aside, the coastline around Hermanus was awful purdy:
Hermanus Coastline
At lunch we cheekily asked our cheeky waiter if in addition to our entrees could he also bring a breach (the term for a whale breaking the surface head first and flopping back in) or two? I think he must have had a deal w/ Moby Dick & Co. as 10 minutes later we did indeed see a couple of whales jumping for joy.
Mom and I even managed to catch a ride on the back of a whale who got dangerously close to the shore:
Ok, this one might be gratuitous but I was chastised by two blog readers that there were not enough photos of us :-)
June 20, 2004
A Drive a Cape and a Boatload of Penguins
The day began with a leisurely drive down Charles Bay, described by one travel mag we read as among the top 5 coastal drives in the world -- Amalfi (Italia), Route 1 in CA, Ring of Kerry (Ireland) and some place in Australia (the only one we've missed :-)) -- being the other four.
The views were definitely sweet:
Mom pushed us to rent bikes for the 40 KM drive but eventually relented
Next we hit the Cape of Good Hope Nature Reserve which contains Cape Point and the Cape of Good Hope amongst other of SA Nature's wonders. The literature boasts that the cape is the "furthest Southwestern point of Africa" (not the Southernmost or Westernmost mind you) and the point at which the Atlantic meets the Indian Ocean (though that's actually at a cape a few KMs away) but thankfully the scenery bested the descriptions by a long shot:
The Cape itself is also pretty darn breathtaking, though this was nearly spoiled by the fearsome Cape baboons. We were warned at frequent intervals not to feed the baboons (who get pretty big and very aggressive). What we had not been warned -- nor had the plethora of fellow tourists -- was to avoid, at all costs, taking food anywhere near these creatures. We say 2 of these suckers steal candy from a baby (well, she was ~ five but....), harass a woman into surrenduring her ice cream and another snag and proceed to open a can of coke, sitting placidly atop an SUV.
Cape of the Apes?
Last stop on the nature train was thankfully a lot more peaceful: Boulder Beach near Simon's Town, featuring over 3,000 Jackass Penguins. Luckily for us they did not act like Tom what's-his-face from the same named T.V. series.
Penguin, suit and all
June 19, 2004
Napa/Sonoma Valley Rival?
Today headed to one of the many wine regions near Capetown. Now, as a biased Californian and a self-proclaimed wine snob, I had pretty high expectations going in. I gotta say that the beauty of the valley far surpassed CA wine country and the wines give us a run for our money (especially FOR the money...with great wines at US $6!). The only problem is shipping and import duties add another ~ $12 to each bottle.
It's as if someone scooped up the Sierra Mnts and planted them around the Russian River Valley
We hit four wineries, including one in the castle (constructed way back in 1997) where the 24 year-old assisant wine pourer guy spent more time asking about CA (he's heading there for a 4 month trip in August) than pouring wine....but at this point we weren't complaining. Melanie, we're going to hook you guys up :-).
The Castle at Fort Simon Vineyard, circa 1997
After pleasantly imbibing -- er -- "tasting", we ended the day in a nearby Calistoga-like town for an amazing dinner (tomato tiramisu anyone??) for $25 / person. yummmmmmmm.
June 17, 2004
Robben Island
Today the foursome headed to the Island-turned-prison about 80KM off the coast of Capetown. Robben Island housed most of the political prisoners rounded up by the apartheid government from 1957 to '93.
Outside prison block A, where Mandella was held in the same 6x6 cell for 18 straight years.
It was pretty powerful, not only because its history is still fresh but because former prisoners themselves actually give the tours. Most of these men were jailed on the mere suspicion that they would be a threat to the white regime and were detained without trial and often without a fixed length to their sentence (Patriot Act anyone?). Most were allowed 2 visitors per year, and 12 letters which were heavily censored. In some cases the prison censors actually mimicked the handwriting of loved ones and feigned divorce, etc.
The guides - as you might imagine - were incredibly passionate. All were reticent on one feeling: not to hold grudges against their captors, almost pleading with the tourists that violence cannot build anything, only destroy. hmmmmmm....
June 16, 2004
Stunning Capetown
Having been a bit spoiled by San Francisco and hearing more than a fair amount of praise we had high expectations for CPT. The first day did not disappoint! Capetown is situated just North of the Cape of Good Hope, the southernmost tip of Africa. The peninsula features stunning views and right in the middle of the city stands Table Mountain, an impressive rise with dramatic topography.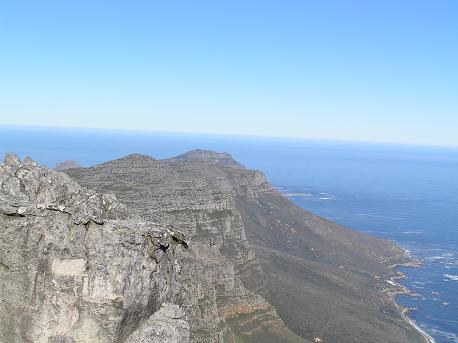 Capetown view, Indian Ocean side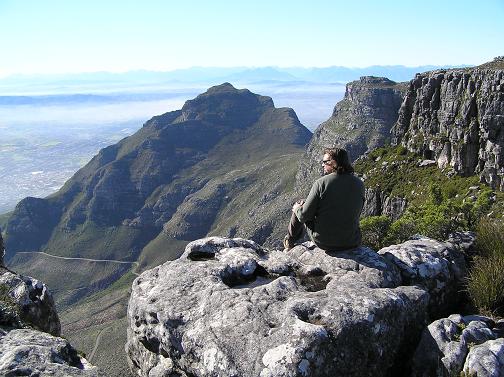 Jim, probably contemplating what he's going to write in the blog
We lunched at the harbor and although it was a little too close to Pier 39 in SF for our liking it did offer a great Belgian restaurant (and accompanying Belgian beers of course), plus a great view of Table Mountain.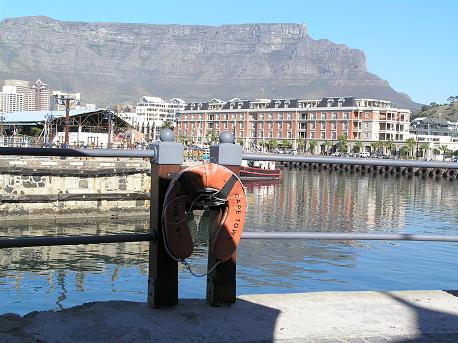 The beers nearly matched the view
Later that evening we dined at the African Café, an amazing place that featured a dozen tapas-style dishes from the entire continent, and after leaving I felt as if I had consumed a continent's worth of calories.
June 15, 2004
Best for last?
Incredibly, one of the coolest safari experiences occurred on our final morning drive. After spotting a couple of buffalo Shadrack heard of a leopard spotting 10 km from our present location, requiring us to race against other Rovers to get a good (and quiet) view of a female and her adolescent male immediately following a kill. Shad again proved his prowess and we arrived well ahead of the other drivers to catch a long gander at one of the most elusive cats in Africa.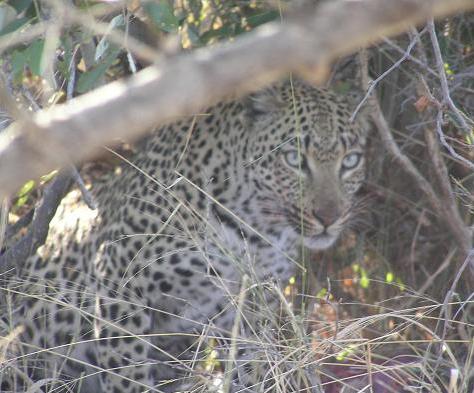 Peeking out from the underbrush
The pair took turns gnawing on an impala which was a pretty powerful sight (accompanied by the powerful smell of fresh blood spilled in the Bush).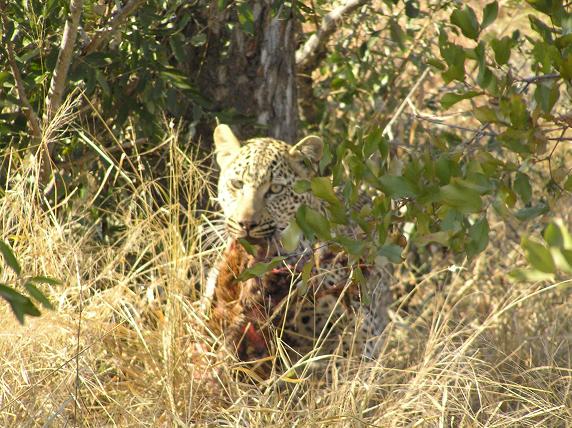 Eating on the run
It was an amazing end to an amazing week. J and I consider ourselves very lucky to have experienced it. We left later that morning for the airport and Capetown.
June 14, 2004
Four out of Five in one day
The morning drive began with a sighting of "Friend" a solitary adolescent rhino so-named due to his placid, playful temperament.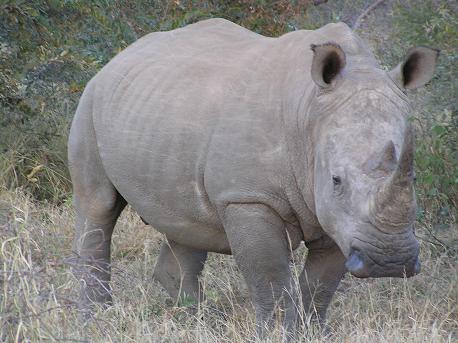 Friend Rhino
Next we hustled off to catch up with a herd (yes, a
herd
) of buffalo. There were easily 40 of these nasty-tempered goliaths.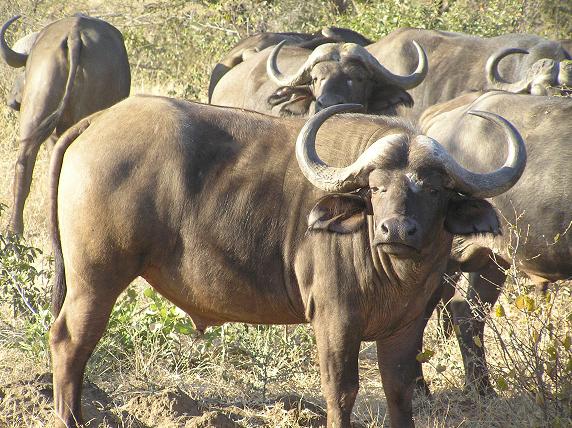 One of the herd. I think he was saying "What choo lookin' at Willis?" in Buffalo tongue
While a few snorted at us we escaped unscathed :-)
The solitude of our afternoon game ride was (can I say shattered?) by "Missy", "Jamie" and "Bob", pet names mom bestowed upon the family of three obnoxious (and ever so pretentious) Americans who checked in that day. They wore matching stocking caps with tassels, sang songs together and butted in on conversations to interject contrary opinions in a snobby, know-it-all manner. Worse yet, "Missy" was "uncomfortable" getting close to the animals. Thankfully Shadrack managed to diplomatically overrule her.
Even the Cleaver family could not ruin the afternoon drive, whose highlight was a surprisingly large herd of elephants – at least 30, including calves less than 3 months old: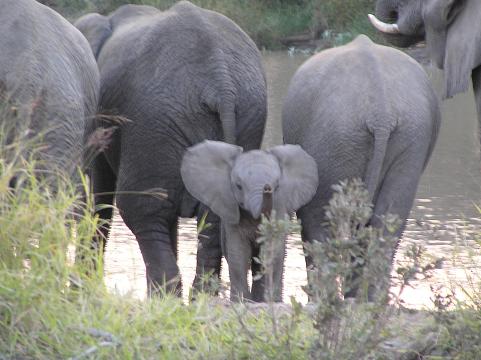 Baby and 'rents
Already thoroughly satisfied by our game spotting, we dared not ask for more, but again thanks to Shaddy and Peter's skill, more we had. We happened on another pride of lions on the hunt, though we only saw two of the majestic males, patiently awaiting word from their female counterparts.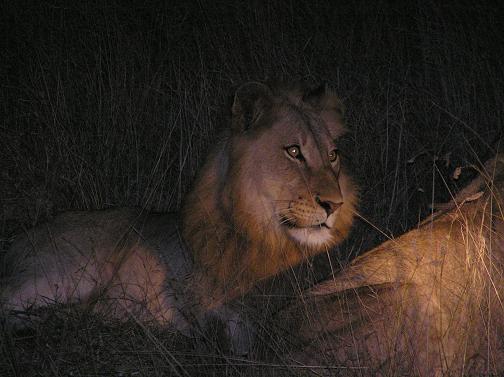 Lions by night. All he's missing is the remote and barka lounger
We returned to the warm fire to regale those stuck in camp with tales of our adventures, sitting as far away from Mr., Mrs. and Junior Elitist as possible.
June 13, 2004
Spoiled, Umlani Style
Ulmani was described by our travel agent as "rustic": a description which was initially off-putting. However, the lack of electricity did not detract from what I would call "upscale authentic". Each guest had his/her own thatched roof hut and there were no fences separating you from the animals.
A typical day entailed:
1. A personal wakeup "call" from a staff member outside your hut (5:30 AM)
2. Bleary-eyed, but tasty (i.e. not Nescafe) coffee
3. The morning game drive (best for tracking animals)
4. Morning coffee and scones out in the Bush
5. Made to order breakfast back at camp
6. A guided Bush walk (with an armed ranger)
7. Lunch overlooking a wide riverbed
8. The afternoon drive
9. Sundowners of your choice drank in the rosy hewed Bush
10. Night game drive in which the tracker employed a high-powered lamp to spot beasties
11. Evening cocktail around the fire back at camp
12. Scrumptious dinner, announced by an African drum beat
13. Retiring, thoroughly satiated with hot water bottle in hand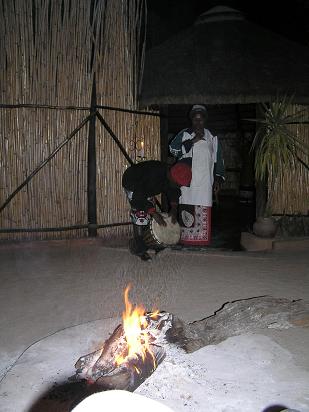 "Ringing" the dinner "bell"
Mom and I ventured out on foot with Shadrack, though disappointingly we never came even close to needing the rifle slung on his shoulder ;-). After a great day of drives that featured the most dangerous snake (in terms of human fatalities) in the Bush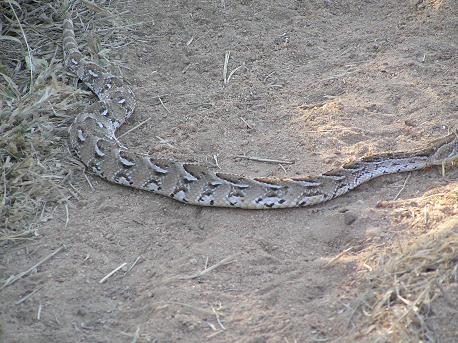 The Puff Adder
a number of avian friends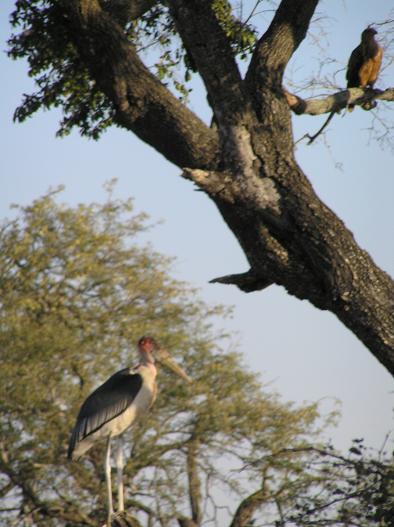 The huge Marabu Stork and vulture sharing the same perch
and sundowners with two hyena friends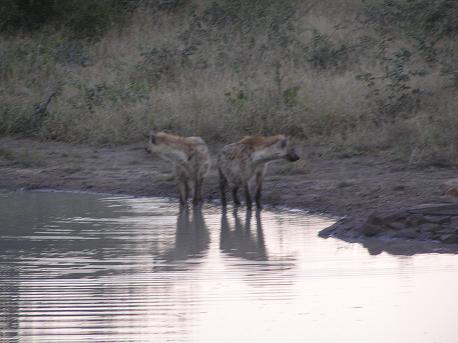 I think there drinks were non-alcoholic though
we hopped back into the rover for our night safari. It seemed that the great warden in the sky had forgotten to let the animals out that night as we saw very little, aside from a Chameleon which attacked mom (and later failed to mimic Janet's pink sweater):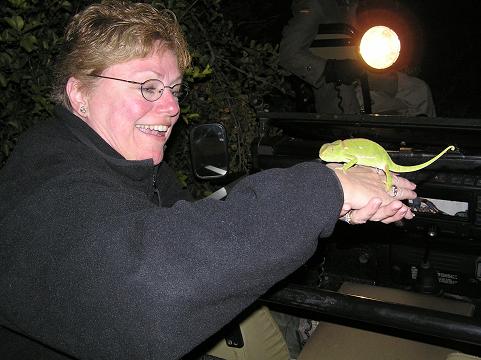 Well not really attacked :-)
However, by now we'd learned not to underestimate our guide Shadrack who had a mystical ability to find and track game (I honestly think other parks' trackers were tempted simply to track us in order to find interesting animals). Shaddy and Peter happened upon a leopard track (don't ask me how with so little light) and we carefully tracked and amazingly found a female and followed her into the Bush. While at times it seemed like we might not make it out (running over a tree or two) we made it back, exhilarated and on top of the Bush.
June 12, 2004
When it Rains it Purrs
Guide Andy's stated goal this AM was to complete the big 5 sightings by snagging King Leo. Another ranger radioed that there had been a sighting but by the time we arrived the only evidence of their presence was one seriously freaked out baboon. The fact that he eluded us again did not detract from more great game viewing. I'd liken the experience to diving with the overland "divemaster" guiding you to areas where you're likely to spot certain animals.
I'm not sure why the safari experience is so thrilling. I suppose it's a combination of seeing these creatures in a natural (and gorgeous) setting, the danger that's involved (though minimal, it still exists) and simply the thrill of discovery. But the element that was most core to the experience did not reveal itself until later that day…
On to Umlani
Before lunch we said goodbye to Andy and headed to a private park in the Timbavati region of Kruger. Private reserves are typically formed by a group of land owners who rely on ecotourism to support the upkeep of the reserve. Unlike Kruger, which required all drivers to stay on roads, private parks allow guided tours to off road to get a closer view of the animals. While offroading skirted the line between impacting the animals and affording the chance to closely observe them, the guides only did so in certain situations. Due to the animals' familiarity with vehicles they often paid little heed to us.
Umlani proved to be a wonderful place. The staff was genuine and friendly, the food was incredible and our guide and tracker were second to none in the Bush, which we discovered soon into our afternoon drive. The evening before a pride of lions had killed a buffalo and we headed to the spot in hopes that they were still there. We were not disappointed :-)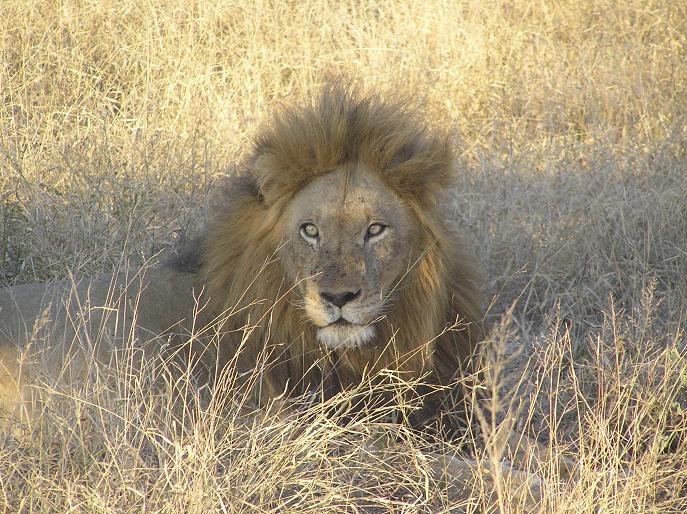 How cool is this cat????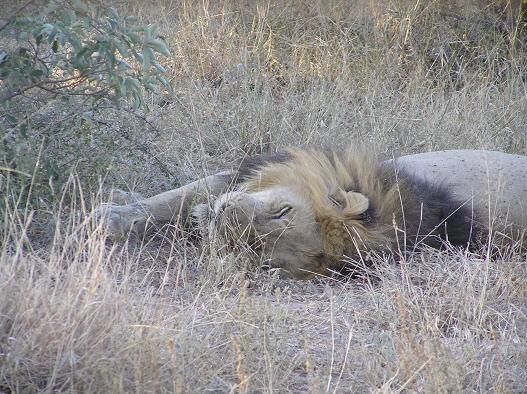 Food coma, Leo style
As the four of us sat just five meters away from these majestic cats it dawned on me what it was about the experience that was most gripping: seeing wildlife on equal terms. There are no artificial constraints or restraints, no man-made hindrances, no imposition of man-made power or dominance. You were observed as much as they were (though they lost interest far more quickly).
Abuzz with excitement, we headed off to enjoy our evening "sundowner" – cocktails made to order in the middle of the Bush (how spoiled were we??).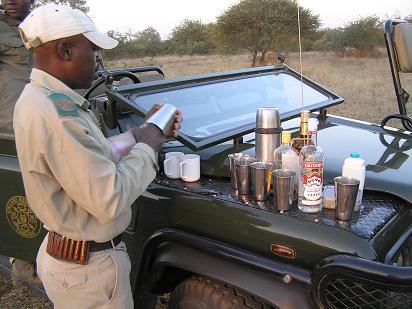 Shadrack mixing on the Rover
As we finished our drinks our tracker Peter calmly pointed behind us to three lionesses and one male loping down the road. We packed up and jumped into the vehicle to follow, as they were clearly on the hunt. The stopped a few minutes later and killed the engine, straining to hear what their hyper sensitive ears (or noses) must have picked up. Stealthily, two of the females maneuvered behind us and into the Bush to stalk their prey. As it turns out males only bother to do any of the work for really big kills (e.g. buffalo), the rest are (naturally!) left to the females. This is true even up until the day before and after a lioness gives birth. In any event watching the hunt from the sidelines one could not help but be deeply impressed by the grace of these predators.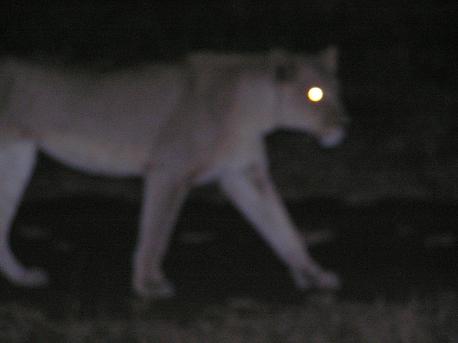 On the prowl
June 11, 2004
Kruger, Day 2
After our 5:30 AM wakeup call we quickly learned that the open-aired Land Rover can be a wee bit nippley during winters in the Bush.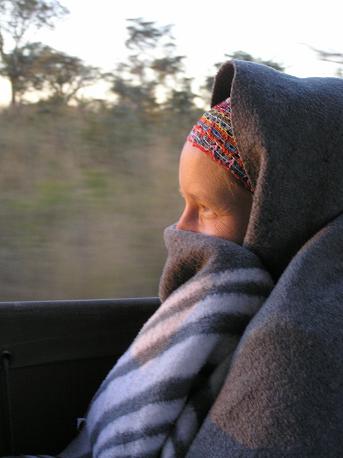 Wifey, in a desperate attempt to beat back the cold
Thankfully the cold did not keep the animals away and between the morning and afternoon drives we hit another of the big five – the elephant (a small herd actually). We also caught a glimpse of giraffes, warthogs, hyenas, a host of eagles (Marshall, Tawny, African Fish) most of what we'd seen the prior day (with the exception of buffalo) and a few hippos who, while they are not a member of the club, are responsible for more human fatalities than the Five combined (never get in between a hippo (hungry, hungry or otherwise) and a watering hole!).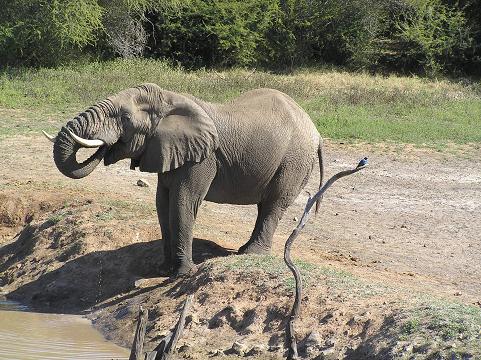 Jumbo-sized big 5 using his crazy straw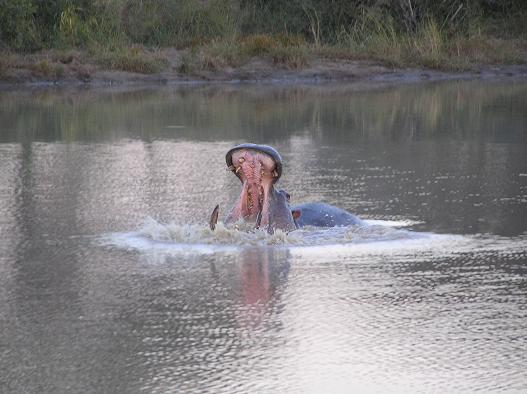 Hungry*2 Hippo
Dazzled by all we'd seen, we hastily headed back the park entrance lest we be fined for being in the park after dark. Fortunately (as it turned out) the direct route to the exit was closed, forcing us to take an alternate where we happened upon the second most elusive of the big 5 – the leopard. He only staid with us for a moment, then scampered off into the sunset. Needless to say it was thrilling!
The experience was only marred by the revelation that not only was our new digital camera not recording properly but had taped over the previous hour's worth of material and remained inoperable throughout the trip (HUGE bummer…I'm SOOOO pissed at canon).
June 10, 2004
In search of the "Big Five"
Up at the ass crack of dawn (which would become routine in the following days!), we took a minivan from Jo'Burg to Kruger National Park. Kruger is the oldest (100+ years) and largest wildlife reserve in Africa, with an area about the size of the Netherlands (!).
The crown jewel of this and many other parks in SA is the Big Five -- elephants, water buffalos, rhinos, leopard and (naturally) lions -- classified as such due to the danger they pose to hunters (hunting is now completely absent from Kruger and much of the surrounding area).
We staid in a (resort?) just outside the park and had a guide for the three days we spent adventuring. While Andy proved a bit rough around the edges at times he was generally pretty amusing and, more importantly, quite adept at spotting big (and little) game.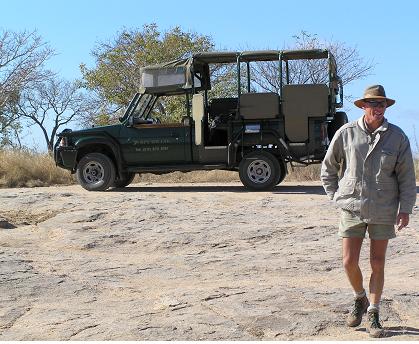 Andy and his Range Rover "office"
Not even 10 minutes into our first safari and who was it that spotted the most elusive of the big 5? None other than Janet "eagle eyes" Van Huysse, who spied a pair of massive water buffalo as we sped by their shady hiding spot.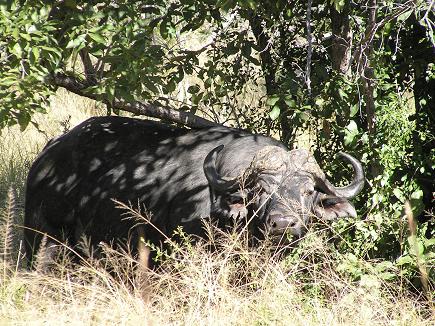 Andy started off his buffalo tutorial with the statement that he's only afraid of two things: humans and buffalo as both are unpredictable. These puppies can weigh over 850 kg (nearly 2 tons) and have been known to charge even the largest of game vehicles.
Though we saw only one other member of the club that afternoon (the equally impressive though far more docile white rhino) we still saw an impressive array of beasties, including:
- Impala (member of the antelope family, very common w/ 90K+ in the park)
- Kudu (larger cousins)
- Blue Wildebeests
- Zebras (herds of them!)
- Klip Springers (antelopes who specially adapted for cliff jumping)
- Charma Baboons (feeding by humans has been a big problem w/ these guys)
- Red billed Hornbills, Yellow and Batalieux Eagles
- Side striped jackals
We also saw a pack of wild dogs, an extremely rare sighting as there are less than 5,000 in all of Africa.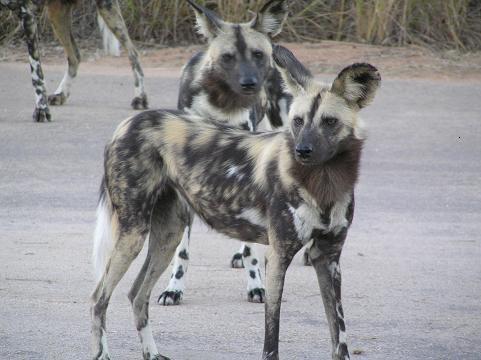 Nice doggy?
June 09, 2004
Arrival of a Very Special Guest
This AM we were greeting by a travel-weary but excited Joan Van Huysse (we were pretty darn stoked to have her join as well!).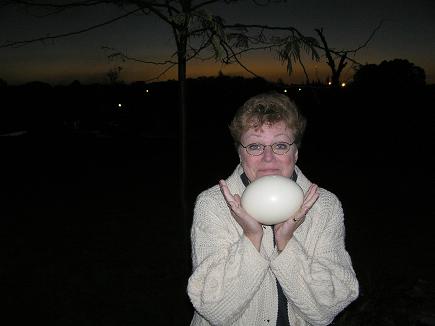 Mom with Ostrich egg
We took a guided tour of Soweto – short for Southwest Township. Soweto was a focal point for the struggle against apartheid and remains a powerful reminder of the triumph of the black majority over the oppressive government that ruled them for over 60 years (and beyond).
We first hit a local market. In addition to the typical market fare there were a few exotic items: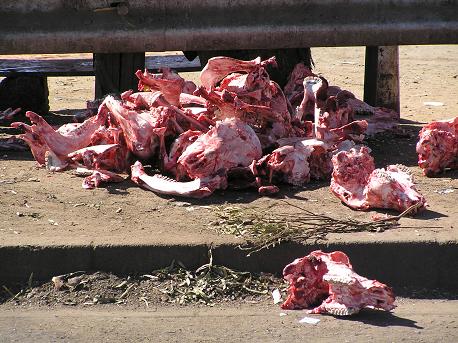 Cow heads for sale!
After the market we hit one of the many "occupied zones" in Soweto – shanty town-like structures with one toilet to 1000 people, 12 fresh water sources in a three square mile area and whose sole source of electricity is car batteries used to power radios.
It was a little strange to take a "tour" of this area but as our guide explained, it's a positive thing to raise awareness of these South African peoples' way of life. It was hard to see, but the spirit and pride of the locals was evident…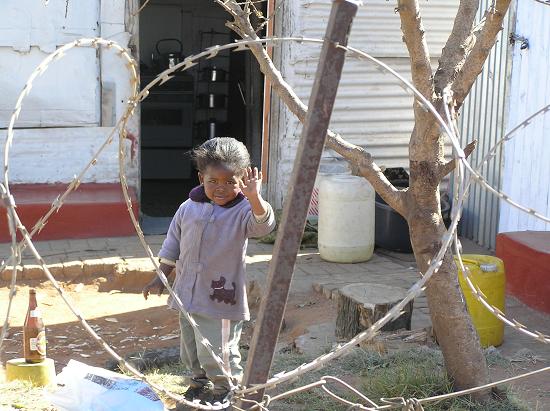 Next we headed to Wandie's, an amazing and authentic restaurant not far from Bishop Tu Tu's home. We then headed to the Hector Peterson Museum, opened in 2002 and dedicated to the memory of an innocent schoolboy gunned down during a protest of apartheid in the 70's,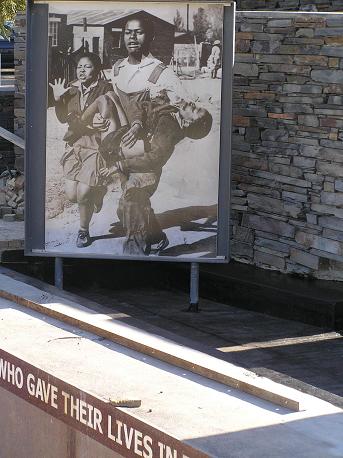 Hector being carried while his sister weeps
We visited the former home of Nelson Mandela which was a bit anticlimactic, as was the tour of downtown Jo'burg, the only city whose Lonely Planet description genuinely concerned me (there's a wee bit of crime in downtown JB).
I asked our guide (and a few others later on the trip) how race relations had changed since '94. He indicated that while some areas were still a bit behind the times (mainly in the rural areas) the transition of government was amazingly peaceful and relations have progressed quite a bit in the last 10 years. Additionally, he indicated that most Blacks did not harbor resentment towards whites, as much of the oppression was due to the National Party, the largely Africaaner-led governing body which incidentally was supported by the U.S. government throughout most of its existence for fear of communism (sigh).
June 08, 2004

Sugary (albeit c-c-c-old)
Reunion
in South Africa
We left Singapore's balmy 91F for chilly Johannesburg, a windy 30F when we arrived at 6:30AM. My temp sensitive wife was not pleased with the swing :-). Greg Sugar, who had endured us for the Cambodia, portions of Thailand and the Burma legs of our trip rejoined us.
We quickly made our way to the mall to procure suitable coterie. We managed to view some wildlife, even in Jo'burg as our accommodations – aptly named the Animal Game Lodge – had a couple of ostriches on the property.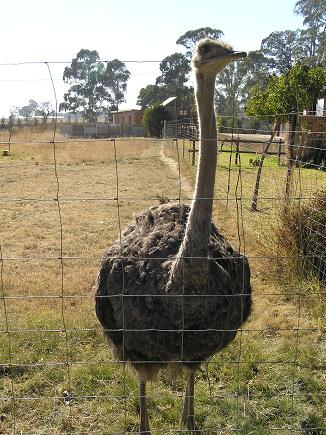 Out of Asia, Into Africa
In keeping with tradition, we thought we would expand our endearing/disturbing lists to all of SE Asia, as there's invariably a bit of overlap b/t countries.
Stuff we found endearing about SE Asia:
The people. While it's tough to say across countries (and even cities for that matter) we generally really dug the temperament of the SE Asia peeps. Granted, the more developed an area (e.g. Thailand) the less this seemed true but even Bangkok had friendly folk.
Beaches. Some of the most pristine we've encountered.
Simplicity & Pace. Even the populace of the larger cities had better live/work balance than in the states. Priorities were first on either religion (usually Buddhism, another bonus) or family, enjoying oneself and then career.
Affordability. Where else can you find (modest) accommodations for US$1?
Meeting likeminded Westerners. Even the Americans we ran into were open-minded and friendly :-)
The food.. Generally speaking of course, we dug the cuisine, especially the stuff that had a kick. And the fruit was cheap, plentiful, exotic and fresh.
Being a novelty. I think the likelihood of our autographs being in demand back home is pretty slim and declining by the minute ;-)
Stuff the Westerners found amusing > annoying > disturbing about SE Asia:
The affect of climate. (Or lack thereof?). Even when the thermometer hit 32 degrees Celsius Asian men always, ALWAYS wore pants. When it dipped down below 80 Fahrenheit out came the jackets.
The smells. Open sewers will do that I suppose. Durian, a native fruit, didn't help matters!
Lack of napkins. OK this is admittedly a bit weird but generally speaking food purveyors had no napkins or had T.P.
The Bathrooms. Public toilets are rarely clean (much worse than your average gas station WC), never have soap and rarely have toilet paper (I guess that's restricted to the dinner table). Also, we won't miss the Turkish "squat toilet."
Tuk Tuks. Their novelty quickly gives way to their noise, pollution, and aggressive, risk-taking drivers.
Bootlegs. There is no such thing as legitimate music/movie distribution in SE Asia.
Development. I'm all for redistribution of wealth / "progress" but even in the two years that had elapsed since our last Thailand visit the amount of resorts and reduction of authenticity is disturbing and depressing.
Lack of environmental responsibility. Granted, developing nations are understandably a bit behind on this one but the pollution, use of explosives and poisons to fish, and scarcity of wildlife reserves is a big bummer.
June 07, 2004
SingapOrwellian

Today we met up with Jeanne, a friend from San Francisco we met through Mina who opened up the first Bikram Yoga studio in Singapore. After the ever-difficult 90 minutes of "active meditation" at the studio (that one never fails to amuse me) we headed out for dinner & drinks.

Over dinner Jeanne shared some interesting perspectives on the city she's called home for the past 8 months. Interestingly, we picked up on some of her observations in the short time we spent in SP. The Singaporean government – while purportedly a democracy – does not tolerate any criticism or dissention. While dissidents are no longer jailed for expressing negative opinions they are invariably convicted of tax evasion, with heavy fines being the minimum penalty.

Not unlike Communism, the government does what it can to help insure that there are jobs aplenty, but the surplus is often created by compartmentalizing job responsibilities within a narrowly defined set of responsibilities. An anecdote to illustrate: Jeanne's boyfriend was at a bar, had ordered two beers, and decided to leave the group early. He asked the waitress how much two beers were and the response he got was a dumfounded pause, as if she had never been asked or never thought to learn the cost of that which she most frequently sold. She told him she was unsure and went to ask the bartender. Jeanne's theory is that the waitress is paid to deliver both beers and bills to customers, but her responsibilities begin and end there.

Another mildly disturbing manifestation of governmental influence is the myriad of propaganda posters in places like the subway. One gem had a caricature of an enormously obese woman with the caption "she did not get out enough" juxtaposed against a drawing of a svelte athletic type with surfboard in tow who apparently did. Another illuminated readers as to the benefits of the workplace: "Work is a great place to 1. Learn to deal with stress; 2. Meet new friends; 3. Make time for exercise" etc. Weird…

An "Apetizer"
We spent the day enjoying a prelude to our next destination (South Africa) with a day at the Singapore Zoo. J and I are not really "zoo people" but the SG Zoo is billed to be far from your average zoo, with exhibits that attempt to perfectly mimic the animals habitat with few fences (mostly natural barriers are employed). I have to say it was pretty impressive, though apparently we were less amusing to the critters than they to us:
Monkee!
Even the lions were yawny
We were treated to a chimp feeding as well...we learned that the ape family is dinural (is active during the day) which may explain janet-monkee's occasional early exit when darkness falls :-)
The Catch
We even hit the "night safari", billed as the world's only nocturnal animal kingdom adventure, affording annoying tourists a glimpse of lions, tigers, bears, elephants, bats, rhinos, leopards, fishing cats, giraffes and many more by faux moonlight. It was actually pretty cool...
June 06, 2004
A "Fine" City
Singapore is definitely interesting. With 4MM people within an island and country 23km by 40km I suppose structure and discipline is needed more so than most, which may explain the rather strict nature of the government and society in general.
Fines are liberally applied to help ensure said discipline:
o Public Urination: S$5,000
o Eating or drinking on the Mass Rapid Transit System: S$500
o Chewing gum: S$500
o Littering: S$5,000
o Gambling: S$1,000
o Failure to flush the toilet (apparently "if it's yellow let it mellow" does not apply): S$500
o Improper deposit of a cigarette butt: S$500
o Jaywalking (yes, they enforce this one): S$500
And, until recently, I would have been turned away at immigration due to my "long hair". Needless to say, SG seems very different from its neighbors. While it's very clean, well manicured and green, the peeps are generally helpful and friendly, it's quite modern (you can buy soda with your cell phone in most places) and is the safest country in SE Asia it is a little too sterile for J and I.
So, we fought antiseptic with antiseptic (alcohol of course!):
Sipping a Singapore Sling at Raffles, the hotel that invented them back in the 20's
We also hit the Singapore Art Museum - Janet as seen through a nucleotide :-)
Little India may be the exception to the rule...it was chaotic, extremely crowded and the streets were almost exclusively populated (eerily so) with Indian men. The food was tasty tho...
June 05, 2004

On to Singapore
What could possibly be the allure of a rather expensive SE Asian country that would warrant a delay in flying to our next destination (South Africa) given the appeal of the African continent you ask? Well, given Janet & my ultra conservative outlook, you'll understand that when we heard Donald Rumsfeld (Rummy as Janet affectionately calls him) was going to be in town we just HAD detour for a few days to say hello. How could we not given how admirably he and the Bush regime have handled things to date?
Truth be told, we figured experiencing the island nation was well worth the $50 stopover fee (and one of Mina's friends has a yoga studio here :-). We spent our first evening exploring Chinatown which is pretty darn authentic given Singaopore's population is over 70% Chinese. Needless to say dinner was delicious!
Singapore is by definition multicultural, with a blend of Malaysian, Chinese, Indian and numerous Western expats. I have to think this occasionally results in an identity crisis, or at least confusion. Case in point, the Santa Claus propped up right across the street from a sacred cow on a Hindu temple:
Ho Moo Ho
Ahem.....
A word from Janet (who Jim must not realize reads the blog as well). The blog entry below should read:

Despite our marvelously comfortable environs and the 11:30pm start time, Janet stayed awake for 99% of the movie.

(that short 2-minute snooze that Jim caught helped me power through the rest of the flick!!)

June 04, 2004
HP3 in the GC

Four our last evening in Thailand we decided to celebrate as only two 30-somethings know how- dinner and a movie! Actually, the movie portion of the evening was pretty cool...we saw Harry Potter III in the "Gold Class" theatre of one of the local megaplexes.

What is entailed in a Gold Class movie-going experience you ask? GC has limited seating (50), a private lounge where one can sip cocktails in anticipation of the cinematic experience, a waiter service, theatre attentdants who escort you to your seats and -- best of all -- the seats themselves: fully reclinable lazyboys comeplete with blankets, pillows and even socks. While the price is 5X a normal ticket, $12 US is hardly a lot to ask IMHO :-). And, for something like Lord Of The Rings, I might be willing to fork out comparable cash in the US ;-)

I was very proud of Janet btw who -- in spite of the extreme comfort of our environs -- managed to stay awake for at least 90% of the film.

June 03, 2004
You'd think we'd have tired of waterfalls...
Rented a moped and cruised round the island...really only two highlights (aside from the lush jungle forest covering the hills of course) 1) waterfall we clambored up to and even braved a swim in (Janet's was involuntary, having had her legs rudely taken out from under her by a slippery rock :-) and 2) a roadside stop to view elephants used for treks on the island.
Pay no heed to the warning sign in the upper left hand corner. i think it said something about 'this water could cause shrinkage'
No elephants were harmed in the creation of this digital image
June 01, 2004
They Should Call it Low Visibility Season
Ko Chang is definitely scenic...it's one of the largest marine / forest preserves in all of SE Asia. Unfortunately the views below the water are not quite as good as those above (at least in June anyway).
Above water view
J and I did two dives, the visibility on the second being less than 3 meters. The only redeeming part of the dive was when Janet saw a very large sea turtle...we debated leaving our non-english speaking and not-very-helpful "divemaster" to follow it but cautious heads prevailed. We shouldda ditched him :-).