June 10, 2004
In search of the "Big Five"
Up at the ass crack of dawn (which would become routine in the following days!), we took a minivan from Jo'Burg to Kruger National Park. Kruger is the oldest (100+ years) and largest wildlife reserve in Africa, with an area about the size of the Netherlands (!).
The crown jewel of this and many other parks in SA is the Big Five -- elephants, water buffalos, rhinos, leopard and (naturally) lions -- classified as such due to the danger they pose to hunters (hunting is now completely absent from Kruger and much of the surrounding area).
We staid in a (resort?) just outside the park and had a guide for the three days we spent adventuring. While Andy proved a bit rough around the edges at times he was generally pretty amusing and, more importantly, quite adept at spotting big (and little) game.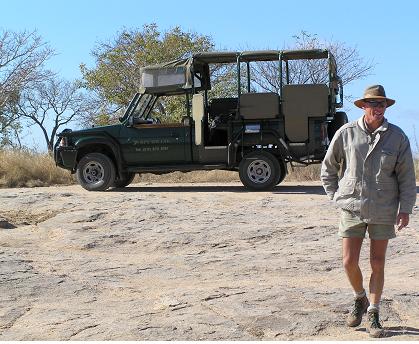 Andy and his Range Rover "office"
Not even 10 minutes into our first safari and who was it that spotted the most elusive of the big 5? None other than Janet "eagle eyes" Van Huysse, who spied a pair of massive water buffalo as we sped by their shady hiding spot.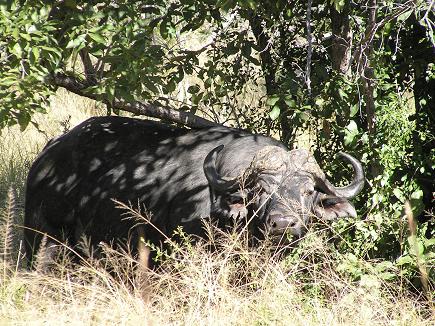 Andy started off his buffalo tutorial with the statement that he's only afraid of two things: humans and buffalo as both are unpredictable. These puppies can weigh over 850 kg (nearly 2 tons) and have been known to charge even the largest of game vehicles.
Though we saw only one other member of the club that afternoon (the equally impressive though far more docile white rhino) we still saw an impressive array of beasties, including:
- Impala (member of the antelope family, very common w/ 90K+ in the park)
- Kudu (larger cousins)
- Blue Wildebeests
- Zebras (herds of them!)
- Klip Springers (antelopes who specially adapted for cliff jumping)
- Charma Baboons (feeding by humans has been a big problem w/ these guys)
- Red billed Hornbills, Yellow and Batalieux Eagles
- Side striped jackals
We also saw a pack of wild dogs, an extremely rare sighting as there are less than 5,000 in all of Africa.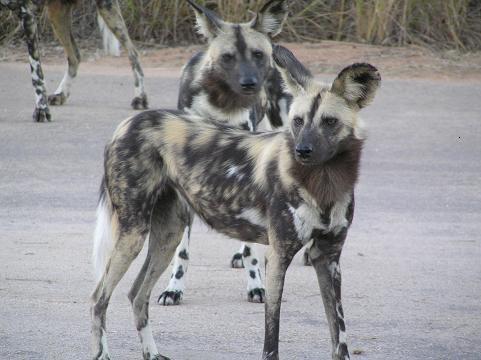 Nice doggy?