June 13, 2004
Spoiled, Umlani Style
Ulmani was described by our travel agent as "rustic": a description which was initially off-putting. However, the lack of electricity did not detract from what I would call "upscale authentic". Each guest had his/her own thatched roof hut and there were no fences separating you from the animals.
A typical day entailed:
1. A personal wakeup "call" from a staff member outside your hut (5:30 AM)
2. Bleary-eyed, but tasty (i.e. not Nescafe) coffee
3. The morning game drive (best for tracking animals)
4. Morning coffee and scones out in the Bush
5. Made to order breakfast back at camp
6. A guided Bush walk (with an armed ranger)
7. Lunch overlooking a wide riverbed
8. The afternoon drive
9. Sundowners of your choice drank in the rosy hewed Bush
10. Night game drive in which the tracker employed a high-powered lamp to spot beasties
11. Evening cocktail around the fire back at camp
12. Scrumptious dinner, announced by an African drum beat
13. Retiring, thoroughly satiated with hot water bottle in hand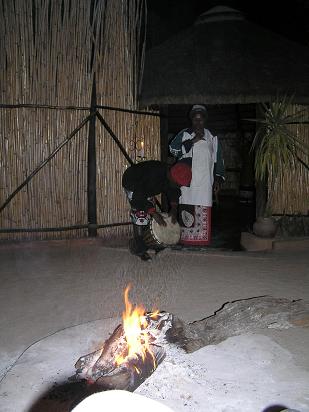 "Ringing" the dinner "bell"
Mom and I ventured out on foot with Shadrack, though disappointingly we never came even close to needing the rifle slung on his shoulder ;-). After a great day of drives that featured the most dangerous snake (in terms of human fatalities) in the Bush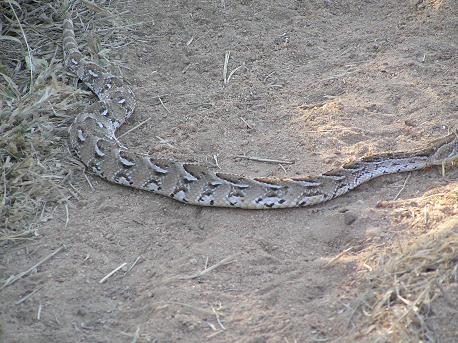 The Puff Adder
a number of avian friends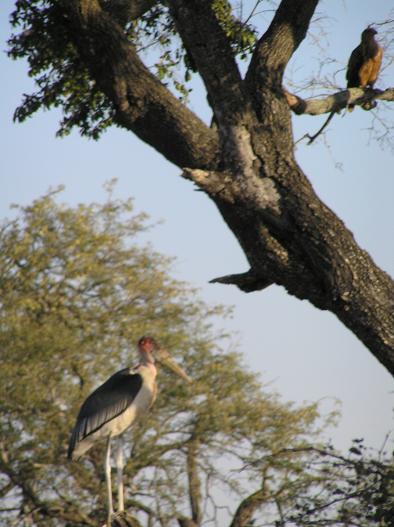 The huge Marabu Stork and vulture sharing the same perch
and sundowners with two hyena friends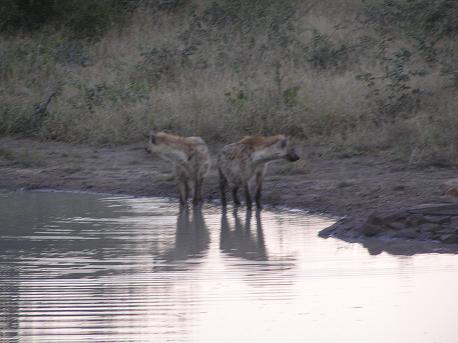 I think there drinks were non-alcoholic though
we hopped back into the rover for our night safari. It seemed that the great warden in the sky had forgotten to let the animals out that night as we saw very little, aside from a Chameleon which attacked mom (and later failed to mimic Janet's pink sweater):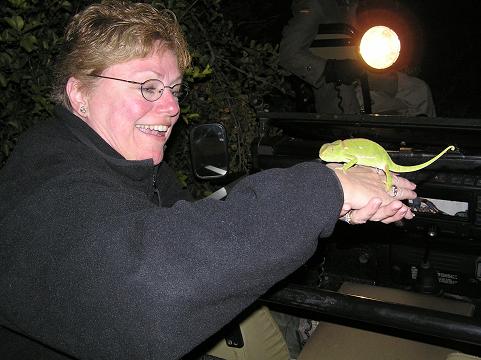 Well not really attacked :-)
However, by now we'd learned not to underestimate our guide Shadrack who had a mystical ability to find and track game (I honestly think other parks' trackers were tempted simply to track us in order to find interesting animals). Shaddy and Peter happened upon a leopard track (don't ask me how with so little light) and we carefully tracked and amazingly found a female and followed her into the Bush. While at times it seemed like we might not make it out (running over a tree or two) we made it back, exhilarated and on top of the Bush.