October 31, 2004
Desert Moon
The desert of Morocco proved to be the highlight. If we could do it all over again, we would have skipped Fes and spent the extra time exploring the desert, for sure.
Our first day was spent traversing the High Atlas mountains, which includes the Tizin Tichka Pass. At 6660 feet it is the highest point in Morocco, as well as all of northern Africa. We also stopped at a few 'kasbahs' - fortified palaces and residences. The drive was long but utterly beautiful. The vistas and valleys along the way were truly breath-taking. Morocco scores high on the scenery scale!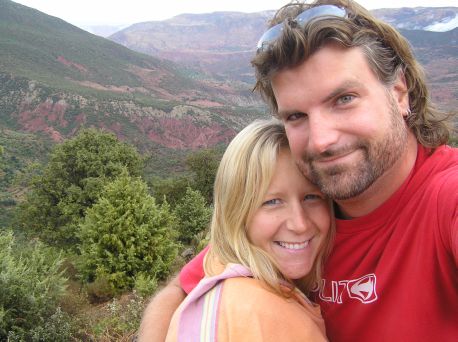 Stopping en route to take in the view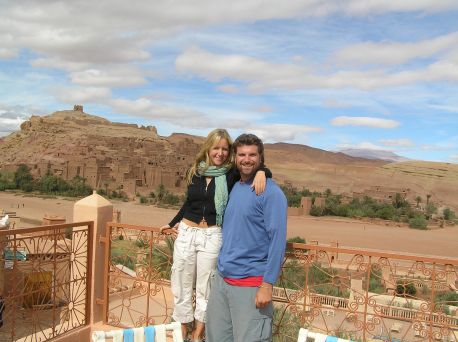 Rocking the kasbah
On Day 2 we drove to Zagora where our camel trek into the desert was to begin. I will admit I got a little nervous as the camels were prepared for us . They are T-A-L-L animals - although I figured I'd be falling into sand if I fell off, but it's still a long fall!
Jim - and the gear - was loaded onto Shariff, who was the bigger of the two camels. My camel was named Ma Moo or May Moon or something like that and proved to be a little frisky at the beginning. But s/he settled down quickly and off we went camel riding! It didn't take me too long to realize that camels aren't really capable of sudden movements so I figured the odds of being thrown off it were pretty slim.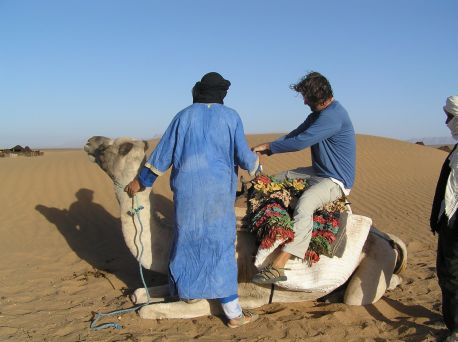 Jim mounting :)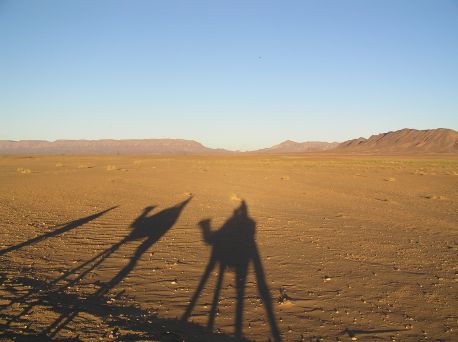 Riders of the desert :)
After a 2 hour journey we reached the berber tent where we would spend the night. It was actually a tent 'complex' with a huge area for dining and many tent 'cabins' set up along the perimeter. Unfortunately (or fortunately depending on how you look at it) there were no other desert safari-ers so we had the whole complex to ourselves.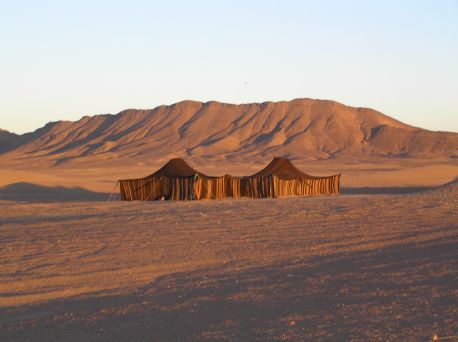 Berber tent complex from a distance
After an amazing sunset we were fed a delicious Moroccan meal after which we headed directly to bed :)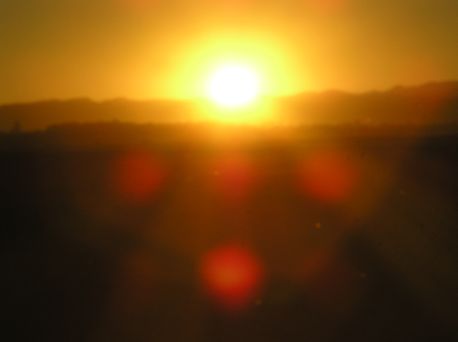 Desert sun setting
The next day was spent making our way back to Marrakech. We were invited to our desert guide's house for a Ramadan meal with his family: his wife and 2 boys (ages 12 and 6). It was a delicious meal including some of the tastiest dessert treats ever! Yum.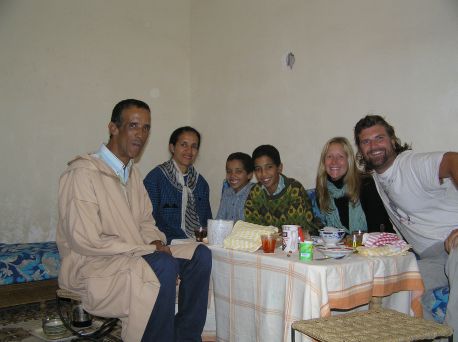 Chez Omar
At 9pm we started our 20-hour journey back to Spain - consisting of an overnight train to Tangier, a ferry to Algeciras and a bus to Seville.