November 07, 2004
Diving Canary Style
We dove "El Cabrone" in Gran Canaria, which means something dirty in Spanish (I remain blissfully ignorant). While the water was certainly chillier than the Red Sea, it was still a cool dive, featuring a crazy spider-looking crab (Arrow Crab), a couple of Moray Eels and some cave exploration.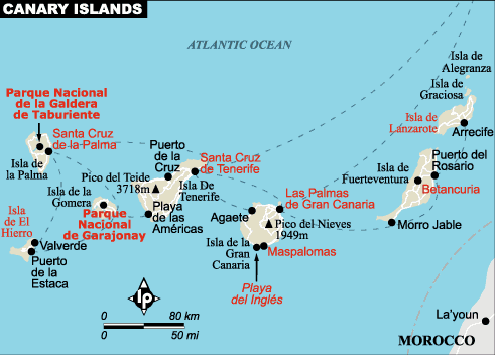 Tweety Bird Isles
Post dive we ferried to Tenerife, about 100 km to the West of Gran Canaria, settling for the night in the quaint town of Santa Cruz for a yummy dinner. The next morning we bussed it south to Playa de Cristios, a very developed, touristy place that isn´t quite our speed, but we were hoping the diving made up for all of the pubs that serve to make the multidude of Brits feel at home for the two week duration they are away from footbal, pints and bangers & mash.
Unfortunately the diving was not really "all that"...my first dive (solo...Janet was not up for the chilly plunge this time ´round) included 10 locals (the shop said there would be 4 other divers) one of which was a 12 year old kid...which a) is not legal, b) is dangerous and c) takes a bit of fun out of the dive (I waited for 1/4 of the dive for our young friend to descend). The visibility wasn´t that great, tho I did see my first Cuttlefish...they´re pretty crazy looking.
Today we dove Mara Azul with a more repudable shop...pretty cool dive, lots of boulders and rock formations thanks to the once active Volcano on the Canaries...but the three were far from our top dive spots :-(.
Tomorrow we head back to mainland Spain (Seville) for a night before heading to Portugal for a week.