November 04, 2004
Escape to the Canary Islands
Not that we would need an escape from the wonderful city of Seville...nah, more so from the painfully fresh news of Dubya´s triumph. I promise to keep the political commentary to a min for a while...frankly it´s faaaaaaaaar too depressing anyway.
So, what do Janet and Jim do when the going gets tough? You should know by now that they pack up and head for the beach. That being said, there aren´t many warm beaches in Espania in November, save the Canary Islands, which are closer to Africa than Europe but still owned by Spain.
Actually, we had planned this side trip a ways back...got great airfare and figured we could use a little Costa del Sol before heading back to Fall in the States. Plus Gran Canaria and Terrife purportedly have some of the best diving around...and it would make for 6 out of 7 continents we´ve seen under water.
The Canaries are actually only a few hundred KM from Morocco but, unfortunately for us, there is no ferry service to or fro so we had to travel all the way back to Spain to fly a scant distance from where we were a few days ago....so far it´s worth it :-)
We spent the day (of course) at the beach, trying to rejuvenate our rapidly fading tans in the Southern Coast of Grand Canary. GC also features 1.5 miles of huge and awfully impressive sand dunes, which we managed to clabor around for a bit: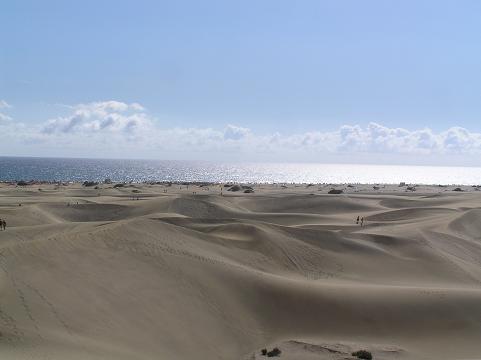 Dune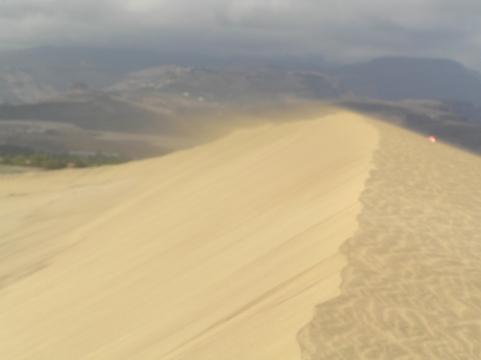 Dune, Part Deux
The guidebook failed to mention the sheer size of MalloraPalma, nor the prevalence of nude sunbathers. It was probably the largest beach we´d been to, and certainly the largest nude beach ;-) (unfortunately most of the sun bathers were in their 60s).
Tomorrow we are diving near the capital of the Island before ferrying it to Terrife, Grand Canary´s Western neighbor.