November 22, 2004
Espania Recapo
Spain tied Thailand for the country we entered/re-entered the most times (four), so we covered a lotta ground :-):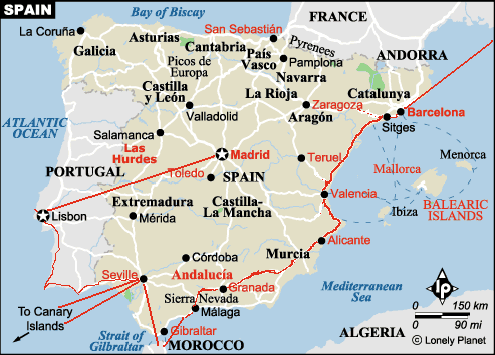 Stuff we found endearing about Spain:
Barcelona and Seville: Gaudi's masterpieces dotting the city skyline are reason enough to make the trek to Barcelona...and Seville had a small town feel with the cultural diversity of the big boys.
Tapas, Sangria, Cervesa con Limon and Paella: these are good enough on their own, but to enjoy them in the land that put them on the menu all but guarantees a memorable culinary experience!
Flamenco: an entrancing form of dance
The Spaniards lust for life: second only to Brazilian in its fervor
Art: Picasso and Gaudi would be enough to begin and end the list, but adding Goya, Velasquez, Diaz, Miro, Dali, Gris, etc. you gotta be impressed
Seistas: while often inconvenient to the traveler, I would not mind instituting them in the US
The Senioritas: we're talking beautiful women here...
Stuff falling somewhere on the amusing>annoying>disturbing scale:
(At times) the peeps: the Spanish were definitely not the friendliest people we'd met as a whole...not grouchy like the Greeks but occasionally aloof
Development: the coastline and, ESPECIALLY, the Canaries often suffered from unabashed and unsightly hotels and resorts
Prevalence of annoying tourists: often attracted by the above of course