November 01, 2004
Morocco Wrap-up
First, le map of where we meandered: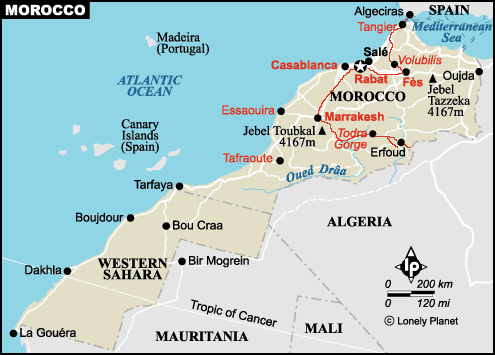 Stuff we liked/ found endearing:
The landscape - surprisingly varied and strikingly beautiful
Prices - cheap, cheap, cheap!
Mint tea - yum, yum. Fresh mint leaves right in the cup! They call it "Moroccan whiskey" - hee hee
Marrakech - Colorful city with beautiful gardens, busy markets and loads of energy
Moroccan sweets - We probably indulged in these a bit too much. The chewy nougat sold in Fes, the delicious pastries of Marrakech. DEEEE-licious!
Trains - Since a lot of our travel days are l-o-n-g ones, we always appreciate expeditious and timely transportation. And Moroccan trains get props for that!
Stuff falling somewhere on the amusing/annoying/disturbing scale:
Pollution - it can be a bit rough on the respiratory system, to put it lightly
Kamikaze moped drivers - these freaks flooded the streets!
Lack of liquor - where can you get a drink in this town?!?!?
Touts/hassle - I think the hassle is directly proportional to the number of carpet salesman there are in any town ;)
Lack of variety in menu options - The steamed vegetables are delicious. Do you want them with coucous or without? With meat or without? That's about the range.
Comments:
Just one of the very best travel logs I've surfed through in a long time. Superb photography. Cheers to the travelers
-thx
Post a Comment