November 18, 2004
Portugal Re-cap
First, ze map: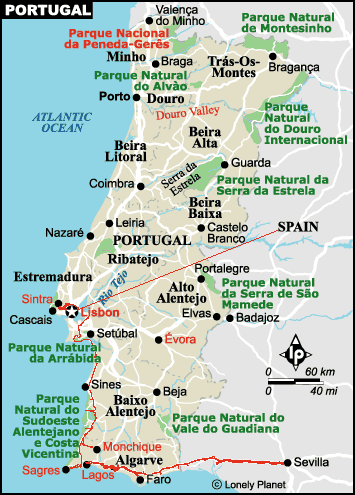 Next, the stuff we found endearing:
The people: Even setting aside the bias our wonderful hosts might instill, we can objectively state the Portuguese were the friendliest peeps we'd encountered since (at least) Turkey
The Coast: The Algarve was simply stunning
Food and beverage: Best fish we'd had in many moons (setting aside the fish ovaries of course!), pastries that I furthered the guts ballooning, this amazing almond liquor and muito delicioso vino
Lisbon: it's rare that a capital city of well over 2M people can maintain so much charm
Holiday Spirit: I'd hate to be the one stuck with the electricity bill in Jan
The fact that the next list is so scant!
Stuff falling somewhere on the amusing > annoying > disturbing scale
Reckless drivers: though I felt pretty comfortable behind the wheel, P has the EU's highest road fatality rate by a wide margin.