November 02, 2004

Seductive Seville
We arrived in Seville last night - and even the view from the bus showed that Seville is a really sweet little city. There are beautiful fountains at every other corner, sweet shops and cafes line the streets and tapas and delicious Spanish wine and cheese every few feet! I'm so happy to be back in Spain :)
Today we headed off to the Cathedral, one of Spain´s most famous. The price of admission kept me out of it, so I'll let Jim do the talking here, since he went in: The cathedral was appropriated from its former Mosque status around the 10th Century and has been in use for well over 1,000 years. Styles fluctuate a bit with the times but Gothic dominates: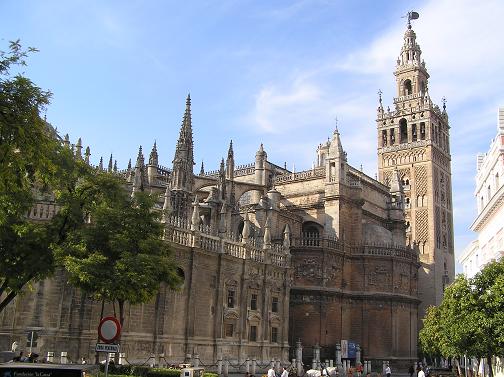 Las Cathedralas (Jim´s attempt at translation)
The Cathedral is supposedly one of the world´s largest...and with an organ with 7,000 pipes, a 30 story+ tower and a sacristy featuring ornate renditions of biblical scenes done in gold flake (1 ton of it! now how many supplicants would that have fed back in 1500AD?) one can indeed feel a bit overwhelmed: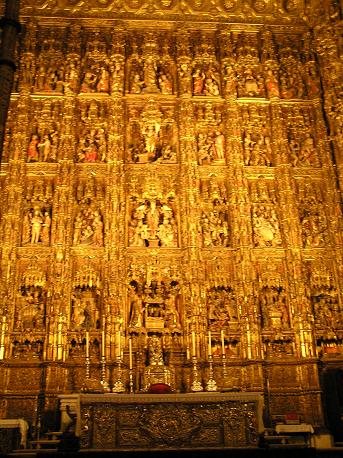 Gold Rush
After that we took a bag lunch to the Alcazar, a few hundred meters from the Cathedral but light years away in terms of style and purpose. The Alcazar was a Muslim Palace from its inception in 931 AD and then appropriated by the conquering Christians from around 11th Cent onward. It features a pretty stunning blend of Spanish and Muslim architecture, suggesting that the two cultures were harmonious more than at odds with one another: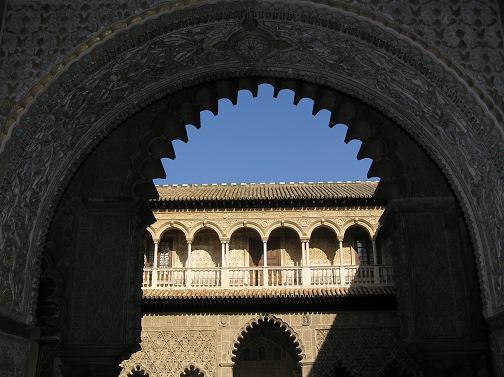 Middle East Meets West
The other impressive Alcazar feature is the acres of beautifully manicured gardens that surround the Palace, which we took in along with a sandwich and cookie or two :-)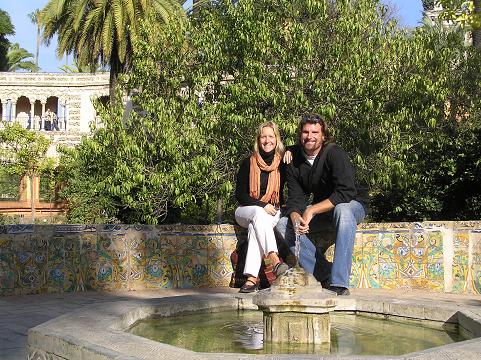 Tranquility
And I had to include this snap of Jim´s as it´s so freaking cool!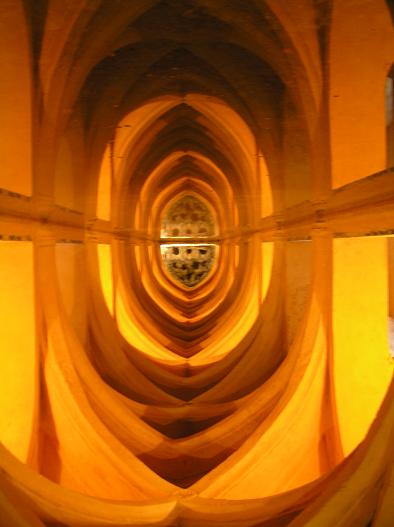 Reflecting on the reflections
Back to me: We ended the afternoon with a little digression to the 'Emergency Medical Assistance' building. Not exactly an emergency, but way back when in Athens, I managed to step on "something" that had lodged itself in my heel. Since I didn't feel said 'something' when it penetrated my foot, I figured it was harmless and my body would just 'take care of it' if I ignored it long enough. Not quite, I guess since I had been unable to put pressure on my left foot for the last 2 days.
The Spanish doctors were quite unhappy to hear it was WEEKS old and not hours (or at least that's the impression I got through our language-impaired communication). But the 'something' was removed pretty quickly and ridiculously painlessly (I had, of course, imagined a scapel, big incisions and walking on crutches for the remainder of my trip!). It ended up being a sliver basically - some small sharp thorny looking thing that was incredibly ill-sized for the pain it was causing me.
And the best part of it - all this medical assistance was AT NO COST! Gotta love socialized medicine :)
We ended the evening seeing the Patricia Barber Quartet - a fabulous jazz group who hail from Chicago. They played a lot of songs from their new album as well the Beatles' Norwegian Wood. It was an incredible show. Great music. Talented musicians indeed. And Patricia is an amazing vocalist.
Comments:
An impressive report about my city. I'd only add one more data: Seville is the 3rd biggest city in Spain with more than 700,000 inhabitants and around 1,500,000 in metro area. In your text Seville seems like a very small village full of monuments. Well, that's true, it's full of monuments because of its long history and importance, but there's more than the historical center (by the way, the biggest one in Europe). Despite this point, I loved your text, and specially, your photos of Seville and Spain. Thank you.
Post a Comment