November 19, 2004

Spoiling Ourselves in Spain
For our fourth and last trip back into mainland Spain we decided to spoil ourselves (my wife's bril idea) with one of the few remaining benefits of my former indentured servitude: hotel points.
We managed to snag three (free) nights at Madrid's The Westin Palace Hotel, our first 5* on this trip (and then some). While we have absolutely dug the backpacker/hostel/budget options of the past 9 months, it was pretty damn gratifying to indulge for a long weekend in one of Europe's swankiest cities (not to mention the rather hellish, cramped and sleepless sleeper train we took from Lisbon the night before):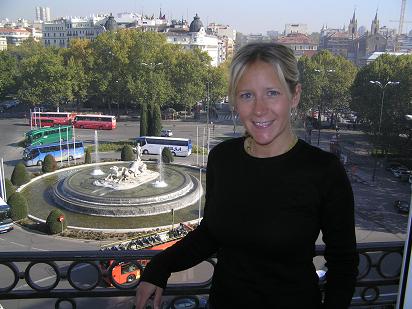 Room with a view
B/C the hotel assumed they were dealing with a long-term, high faluting client (fools :-)) they gave us a suite. While it was nice to have a room 8X the largest we'd had since we'd left the States, I was more than a little worried that I would not get my wife out of the room :-).
After prying the hair dryer from Janet's clenched hands we headed out to the Parque del Buen Retiro, soaking up a little sun amidst the fall foliage: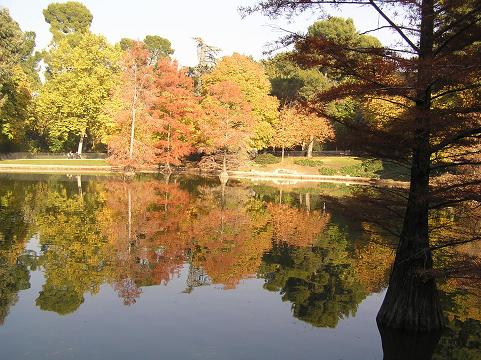 Saturday, in the Park (it was not the 4th of July)
After being mesmerized by a trippy manifestation of abstract art (picture about 100 glass arms serving as bell clangers operated by hidden motors in turn pulling strings within a huge "crystal Palace" from the 19th Century) we headed to the southern end of the Park to check out the "Fallen Angel." Created in 1840, it won some artsy award and was the first modern-day statue dedicated to Satan (leave it to the Spaniards!):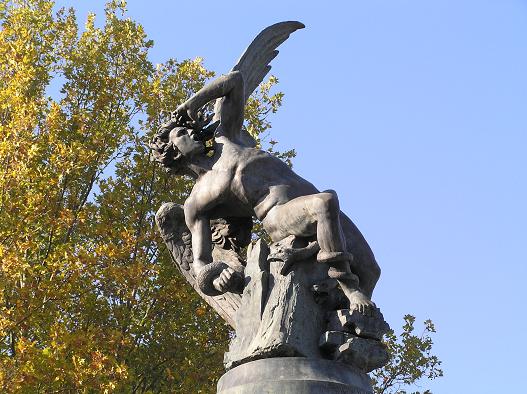 The Nombre of the Beast
We left Lucifer for Rena Sofia, one of Madrid's many famous museums. Post modern art gaping we were joined by our friend Dave (Mr) Bill who was on business in Barcelona the day before who, funnily enough, joined us at the beginning of our Asia trip (which seems like EONS ago at this point).
We spent the night catching up over tapas and vino tinto at a great little restaurant in the city centre. Yummmm.